Do you have a favorite recipe that doesn't come from our database? You can easily import it to your Real Plans Recipe Box and then have access to it the same way that you access our recipes. 
To import from a webpage
Copy the link in the address bar on the page that contains the recipe you want to import.

Head to your Recipe Box, and select Import Recipe.
Paste the website URL into the text box and click on Import.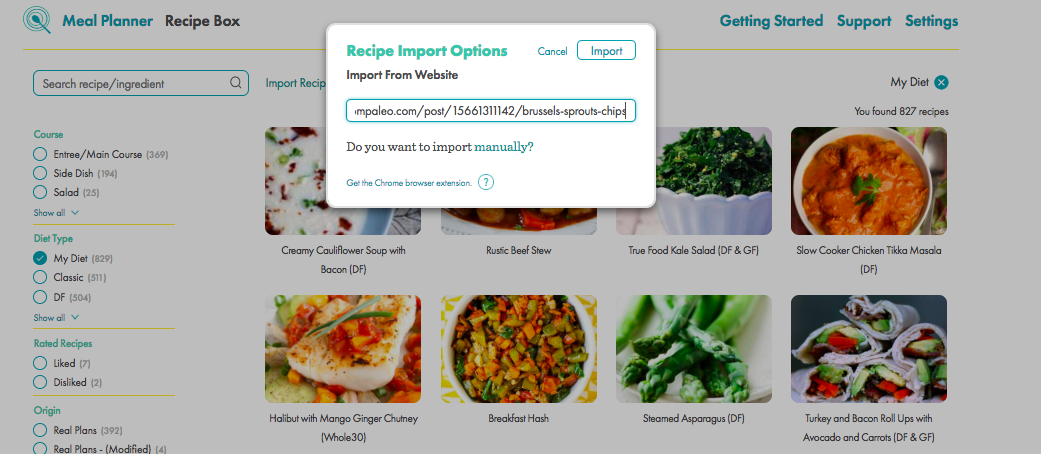 From here you will be prompted to select an image that will show up in your Meal Planner with this recipe. Select and crop it and it will be ready to go.
From here, the recipe title, ingredients, and preparation instructions will automatically be prefilled into the recipe card.  If this does not happen, you can simply copy and paste them where they go on the recipe card.
Create tags and fill in categories to make it easier to find in your Recipe Box.  
Add notes you may have about the recipe and edit the timeline instructions to appear (if you want to make this the night before, for example).  
When all of the information has been entered, click Add and Save upper right corner of the recipe card. 
You will be prompted to confirm the ingredients. Make sure that the quantity, units, ingredients, and categories are in the right column so they correctly show up on your Shopping List. Check the category for each ingredient to be sure it matches.
This is especially important if you subscribe to our Macro Tracker.  

Click "Confirm" when it all looks right.   Congratulations!  You have imported a recipe! 
Manual Importing
If you have a recipe that you would like to import that is not on the website, head to your Recipe Box, and select Import Recipe. In the popup, select Manually.
From here, a blank recipe card will open and you can import the ingredients, instructions, and procedures. You can even add a photo. Be sure to fill in as many fiends as possbile to make your recipe easy to find in your recipe box. Click Save and confirm your ingredients as directed above. 
This recipe is now in your Recipe Box and will show up in your weekly meal rotation.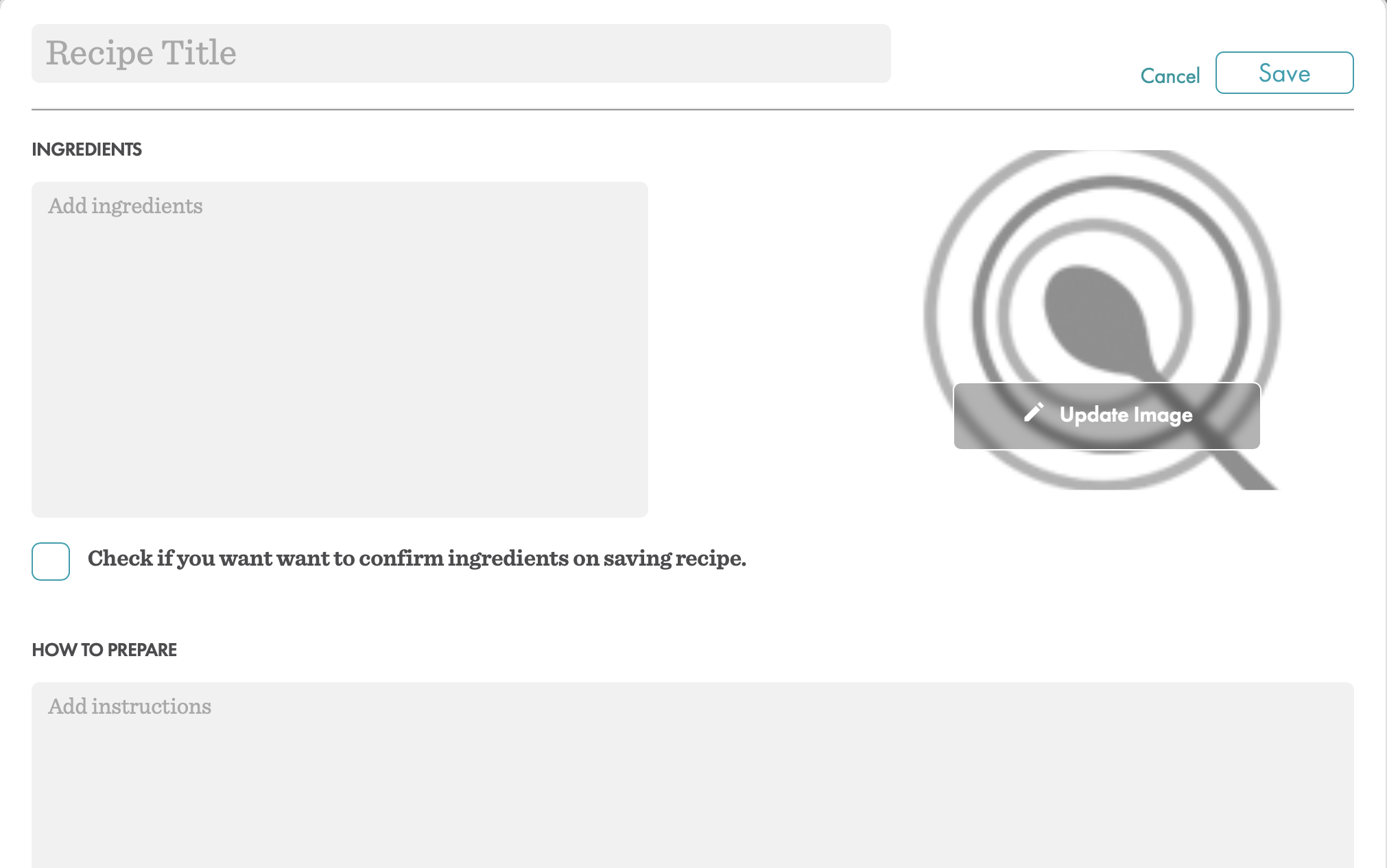 Helpful Hints: 
Bullet pointed ingredients lists and numbered directions work the best. Select the URL that is not the printable version of the recipe (URL ends in "/print" for the printer-friendly version) for best results.
On occasion, an ingredients list may not be compatible, and you could receive an error message.  If that should occur, check the ingredients list for some of the following issues:
Be sure you have a quantity and a unit of measure.
"1 whole chicken" works best rather than "1 chicken".
"4 pounds ground beef" works, whereas "3-4 pounds ground beef" would not.
Be specific.  Rather than listing one can or one package, specify ounces or pounds needed.  
Fractions should be listed as 1 1/2 rather than 1+1/2.
Look for large spacing between the quantity and the ingredient.  "4      pounds  ground beef" should be changed to "4 pounds ground beef".
If you're having trouble getting a recipe to import, hop into chat so we can help. You can also email us at support at realplans dot com. Include the link to the recipe you are trying to import.
Bonus Tip:  If you use Google Chrome as your browser, you can import even faster with the Real Plans Google Chrome extension!  Click here to find out how.
**Using the app?  Click here to learn how to import recipes from our mobile app.**
Save