Congrats!  You've rocked your Whole30 Reset!  You are now ready to jump into reintroductions, but you aren't sure the 10-day Fast Track Reintroduction is quite right for you.  If you haven't read about the Slow Roll option, read Melissa Hartwig's full explanation here.
Now that you know all about the Slow Roll Reintroduction, here's how to use Real Plans to help schedule it: Once you've finished your Whole30 Reset, leave the Whole30 option turned on in Settings > Whole30 Meal Plan > Advanced Settings. Then, go to the Recipe Box and uncheck the "My Diet" filter.  You should then see a set of Whole30 reintroduction filters including legumes, dairy, non-gluten grains, and gluten grains.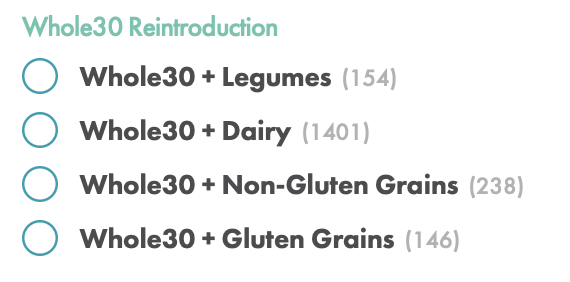 From there, you can click the filter you need and use the calendar icon to schedule meals manually into your plan.  You can also use the other filters to narrow down your search if you are looking for a reintroduction dairy recipe that also has chicken or is a breakfast, for example. 
As always, we are available on chat or you can email us at support at realplans dot com.
Save
Save
Save