We all have those family-favorite recipes that we want to be used in our weekly meal plans. Follow the steps below to see how easy it is to import recipes right into your Recipe Box!
Start by clicking on the magnifying glass at the bottom of your screen.  Scroll to the bottom and  click on "Import Recipe".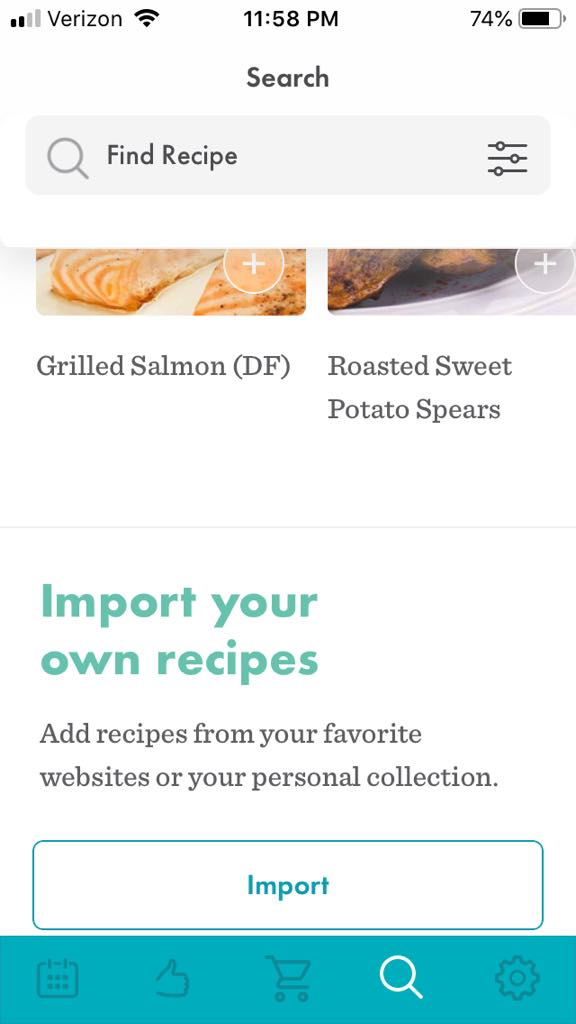 You will then have the option of importing a recipe from a website or creating your own recipe.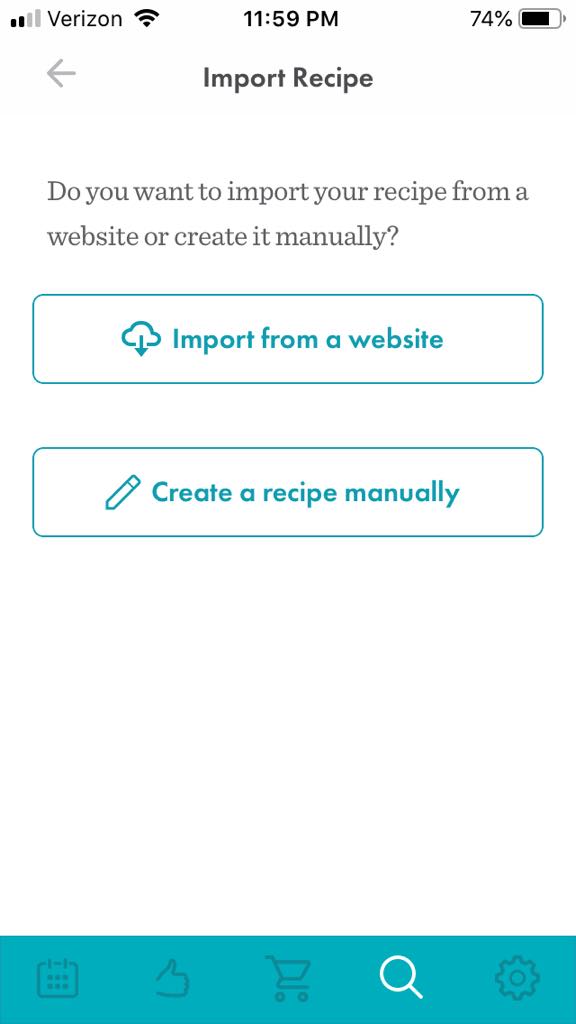 Let's begin by importing a recipe from a website.
Your first step will be to enter the website address of the recipe you'd like to import in the address field at the top of your screen. By default, Google will come up so you can search for the recipe, if desired, or you can just copy and paste the website URL into the address bar.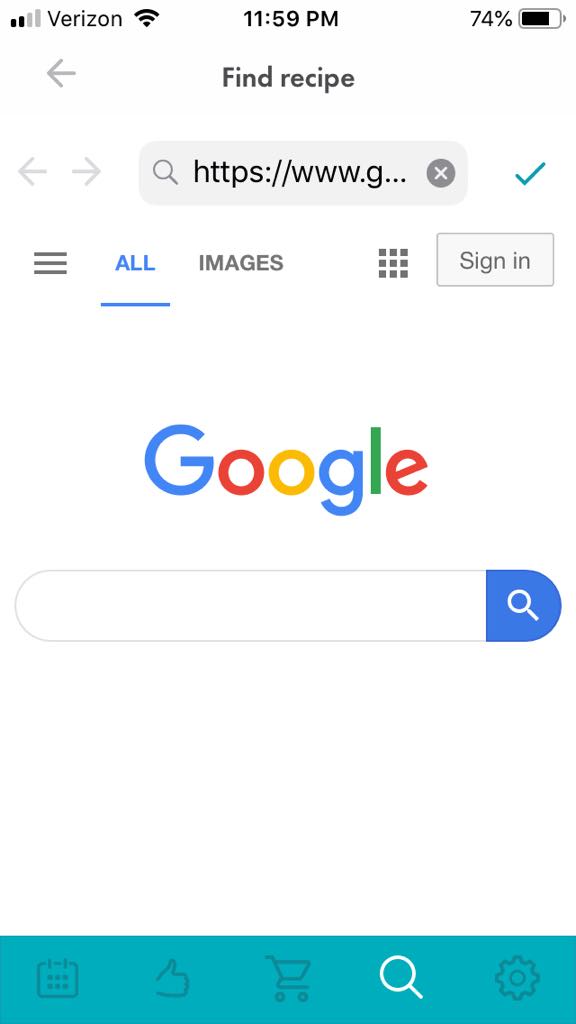 Once you have entered or found the recipe of your choice, click on the blue "Import" button.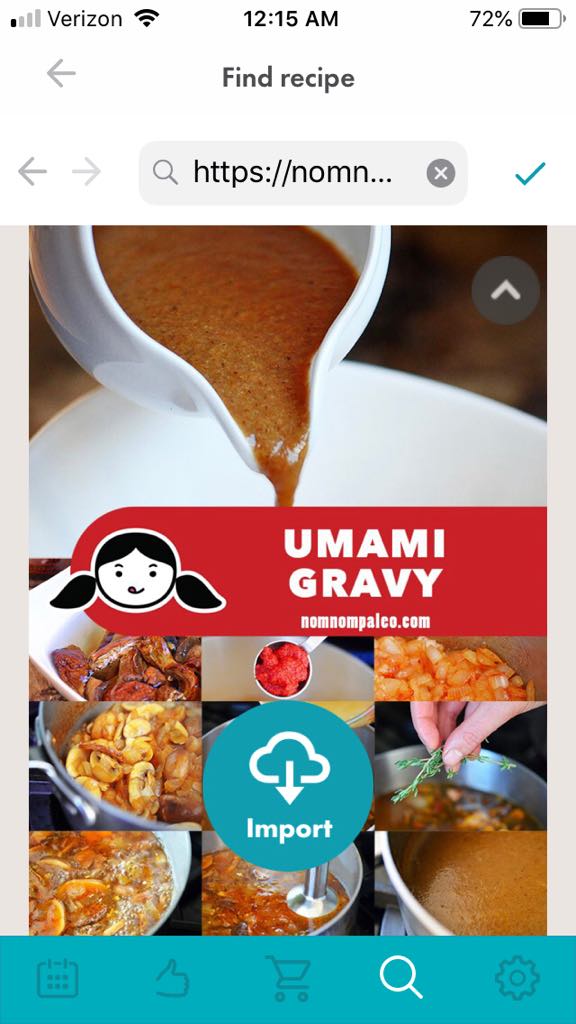 You'll then be prompted to select and resize your recipe photo. This is the photo that will represent your recipe in your Recipe Box and Meal Plan. You can resize your photo by using your index finger and thumb to zoom in and out.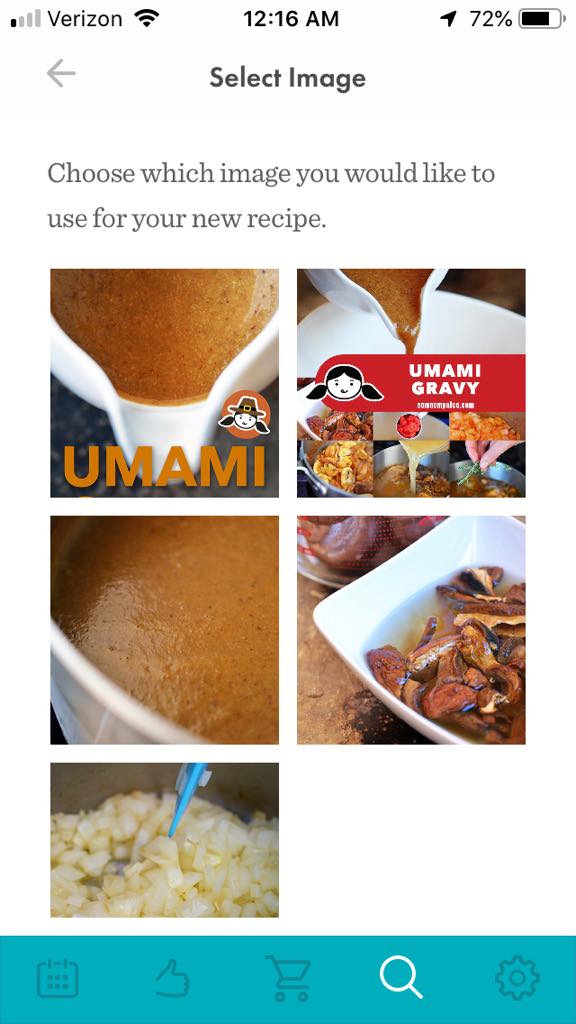 Your recipe will now be ready for you to input the necessary information to be imported.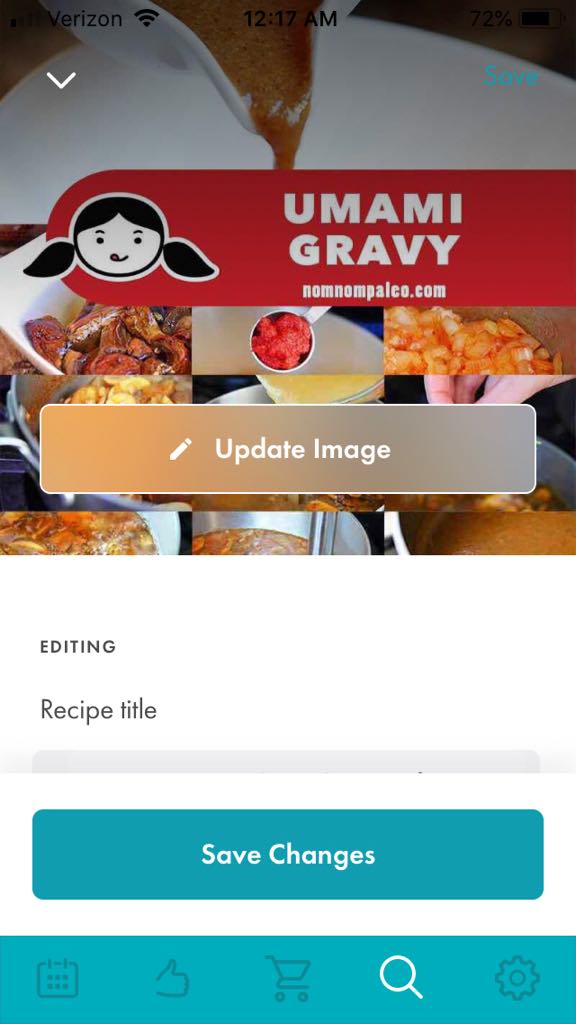 In most cases, the recipe title, ingredients, and preparation directions will be inserted for you automatically. If they are not, simply copy and paste or type this information into the correct fields. You'll also want to adjust the prep time, total time, and serving size for this recipe. 
If you want this recipe to show up in your weekly meal plans, you will need to select the appropriate season(s), diet type, course, and main ingredient, as well. If you choose to, you can also select the recipe's applicable tags, cuisine, meal size, and timeline instructions. 
Click here for more information about the Timeline Instructions.  Click "Save Changes" when finished.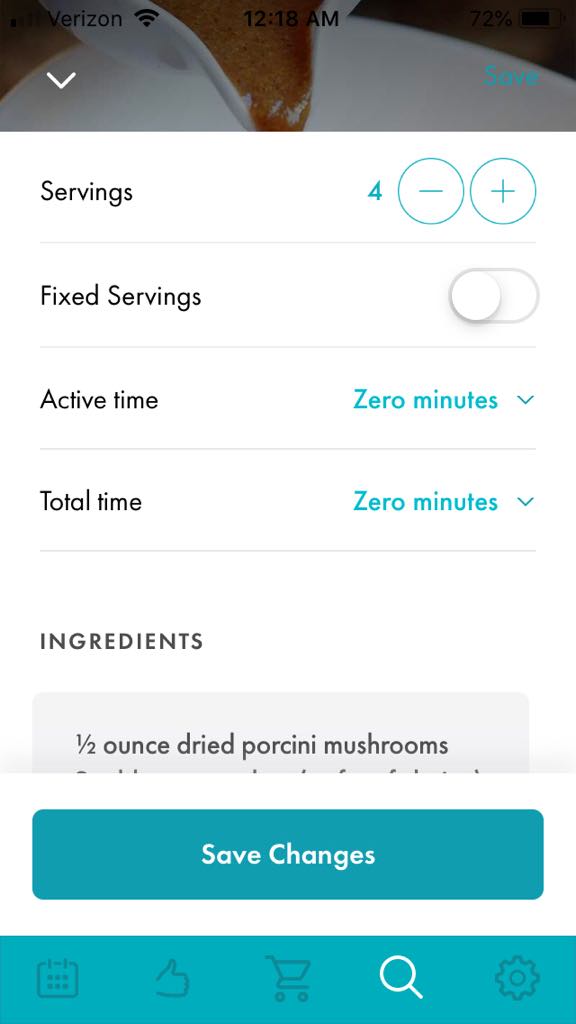 You will then be prompted to confirm each ingredient in the ingredients parser.  When you have made sure all of that ingredient's information is accurate and in the correct place, swipe to the left to confirm each additional ingredient in the recipe.  This will ensure that your shopping list is accurate.  Click "Confirm Ingredients" when all of the ingredients are entered properly.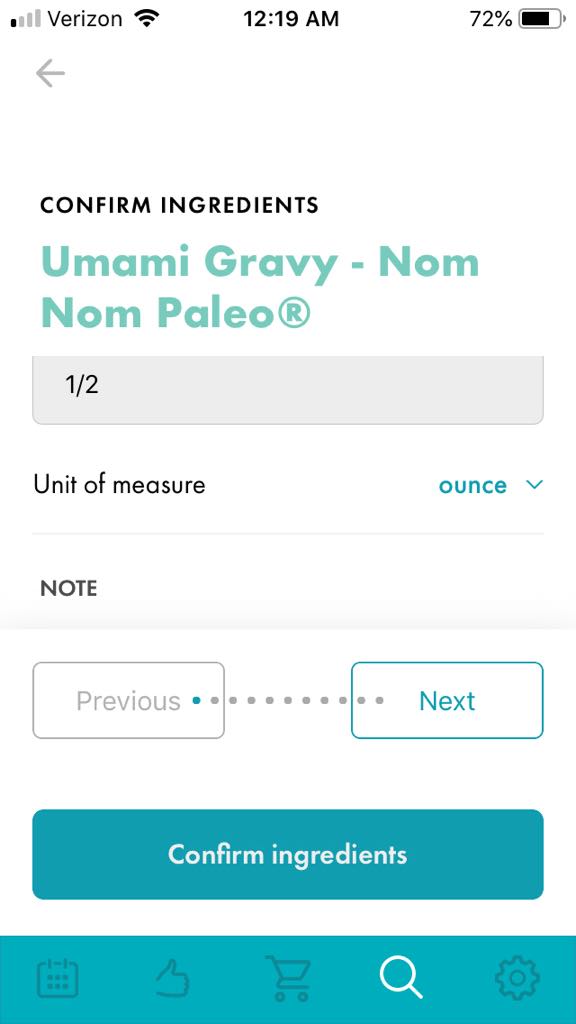 Congratulations!  Your recipe is now imported and ready to be added to your Meal Planner, if desired.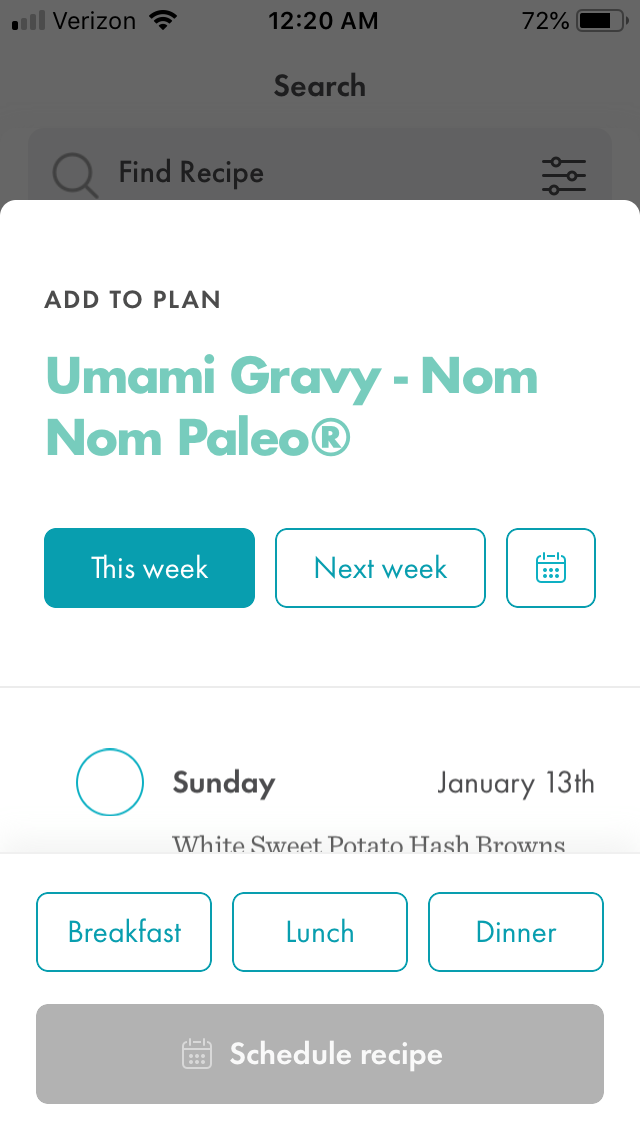 If you wish to manually import a family recipe or a favorite recipe from a cookbook you own, select "Create a recipe manually" and follow the same steps as importing from a website, except you will be entering each field by hand. You can upload an image for your recipe (if desired) and choose a title for the recipe, followed by the remaining fields as described above.  
 Your next step will be to confirm all of your ingredients, adjusting as necessary. You'll want to pay close attention to the ingredient name, quantity, and unit of measure. You can also add or modify ingredient notes. Lastly, you'll want to select the appropriate category for the ingredient.  This category will correlate directly to your Shopping List.  
Swipe your screen left or right, or use the "Previous" and "Next" buttons to navigate between ingredients.
Once you have finished reviewing each ingredient, click on "Confirm Ingredients" at the bottom of your screen.
Congratulations!  You have manually imported a recipe!
Having trouble importing your recipe? Go here for some helpful tips and to find out how to import your recipes via the Real Plans website! 
If you have any further questions or require additional assistance, please pop into chat, or send us an email at support at real plans dot com.