We are thrilled to offer our subscribers the convenience of purchasing ingredients on your Shopping List from the comfort of your own home using Instacart! 
Open your Shopping List by clicking on "Shopping List" in the upper left corner of your Meal Planner just under the calendar icon.  Select "Order Ingredients on Instacart".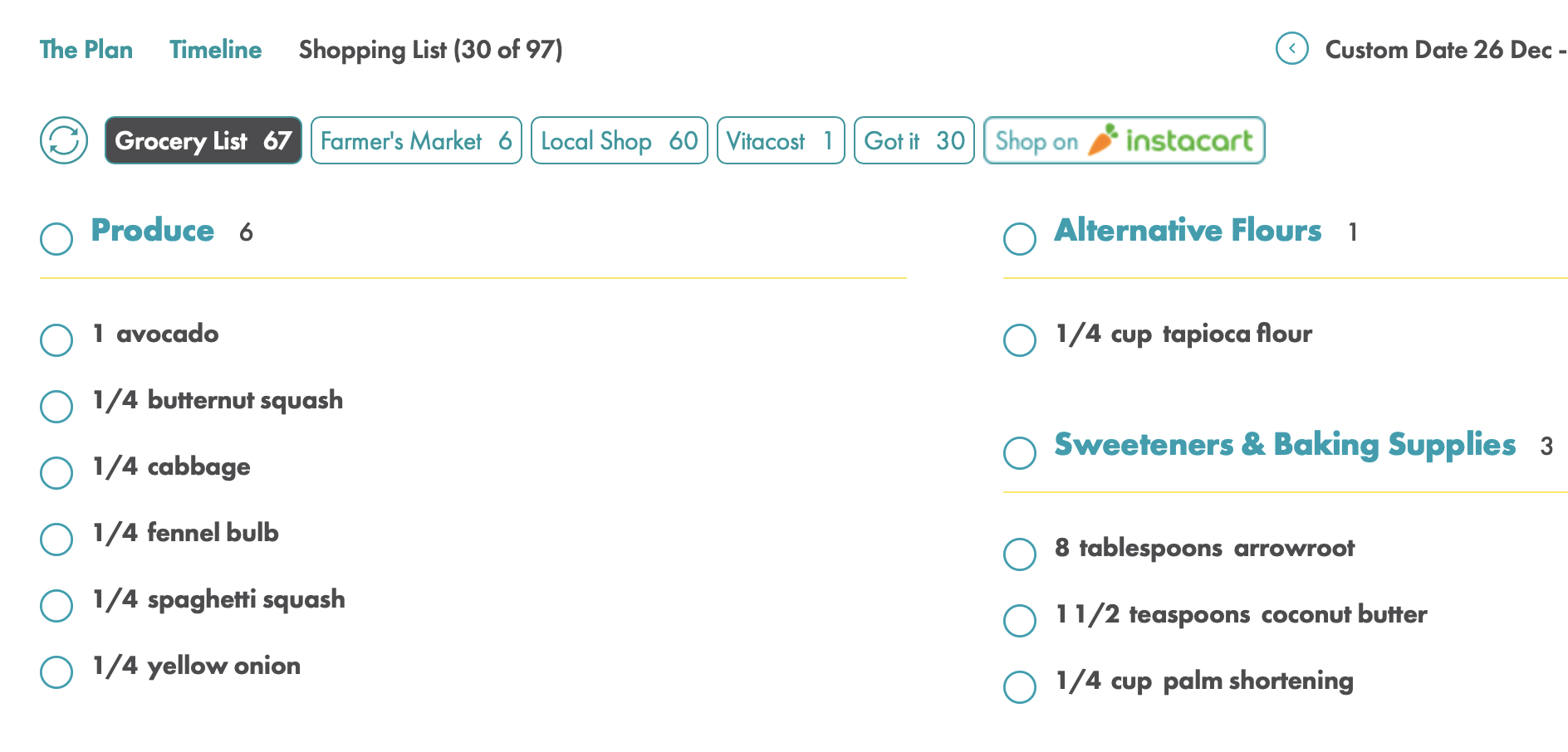 You will see this pop-up letting you know you are being sent to Instacart.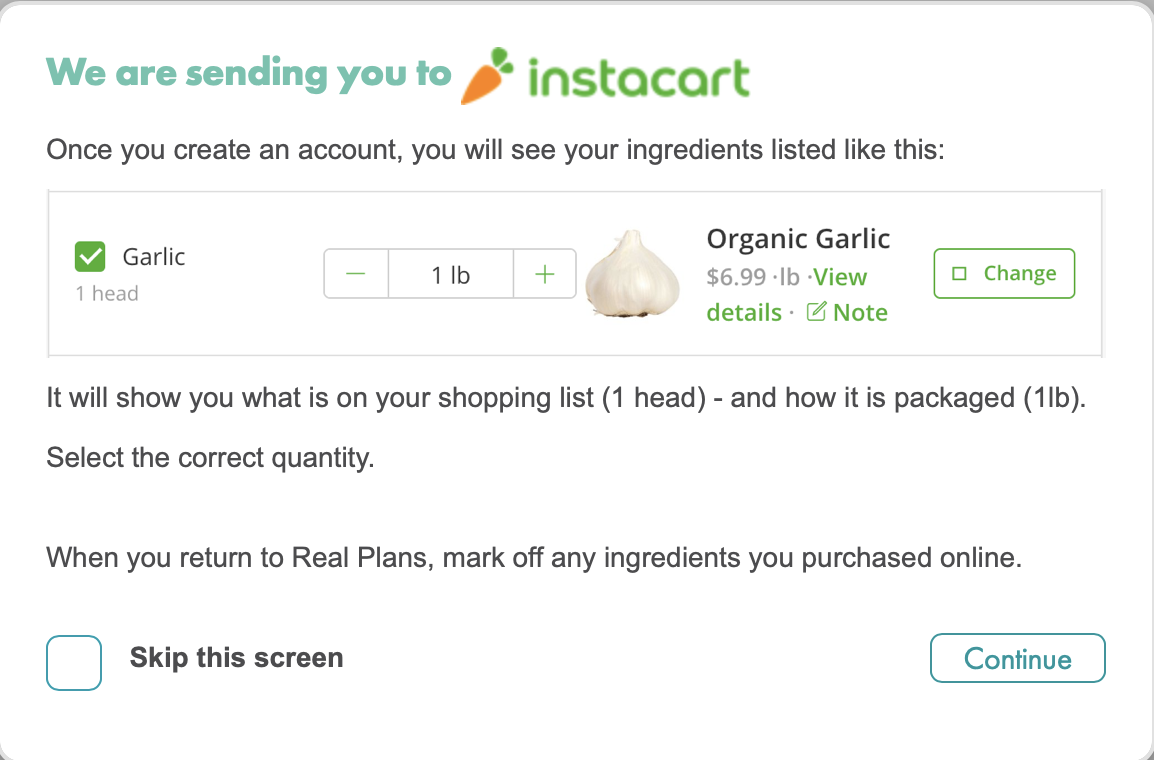 If you don't already have an Instacart account, you will need to create one at www.instacart.com.  If you do have an Instacart account, go ahead and get logged in.  Once you are logged in to Instacart, come back to Real Plans and click on "Continue" as seen above.  You will be taken to Instacart where your Real Plans Shopping List will be populated automatically. 
To choose a different store than the one selected, simply click on "Change" next to the store name and select your preferred store.  Once you change your store choice, come back to your Real Plans Shopping List again and click on "Order ingredients through Instacart" to generate your new Instacart list at your preferred store.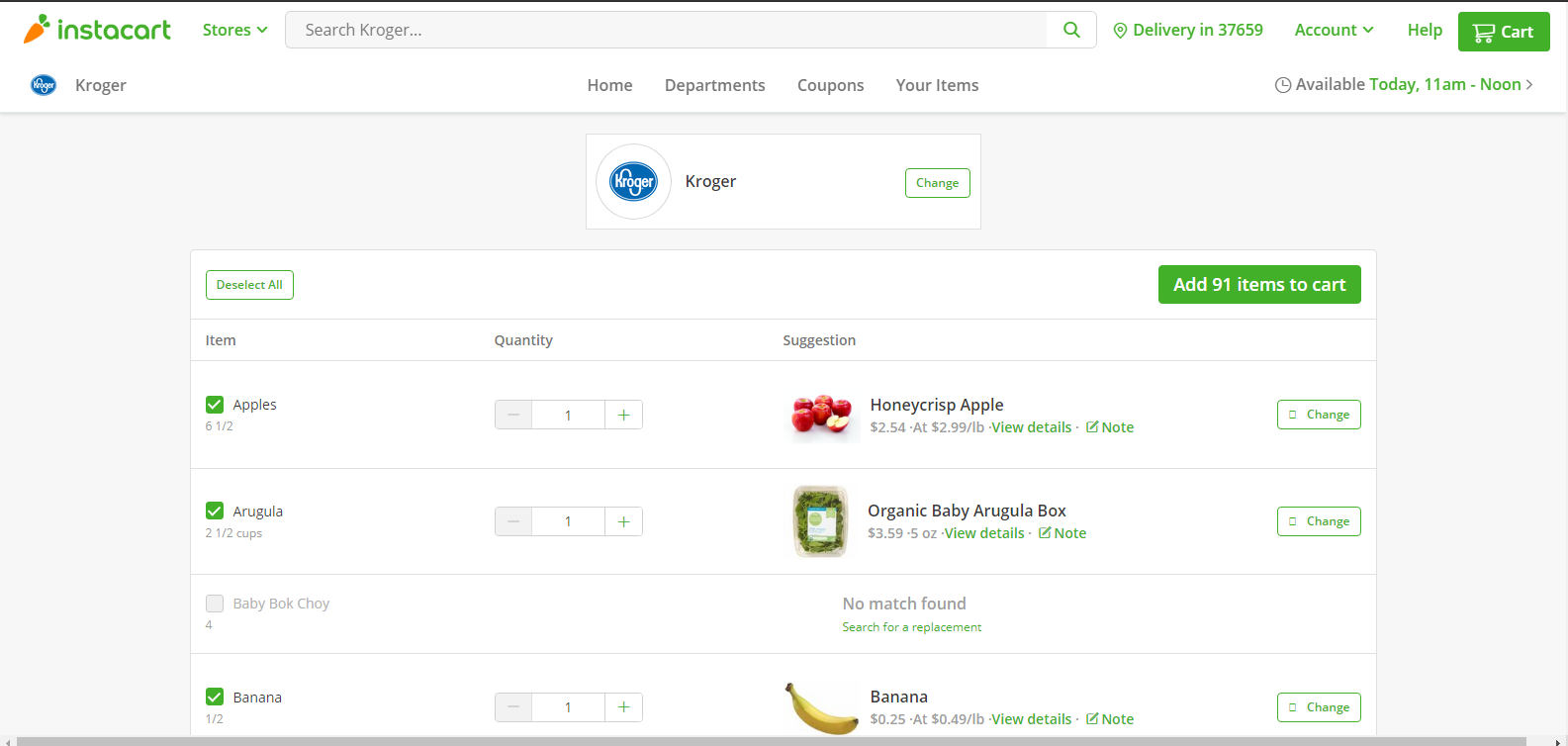 Look over your Instacart list very carefully.  It is important to check each ingredient and quantity, and change as needed for organic, if preferred, and Whole30 or other special diet compliance.  The items that populate may not take your specific dietary preferences into consideration, so it is very important to check each item carefully to be sure it meets your needs.  It is helpful to hover on the ingredient names in your Real Plans Shopping List to check what recipe is using each ingredient to guide you in making substitutions, if needed.  You can leave special instructions for each item, like "large sweet potatoes preferred" or "ripe bananas only, please," and you can also choose replacement products (or request not to have items replaced) if your preferred ingredient is out of stock.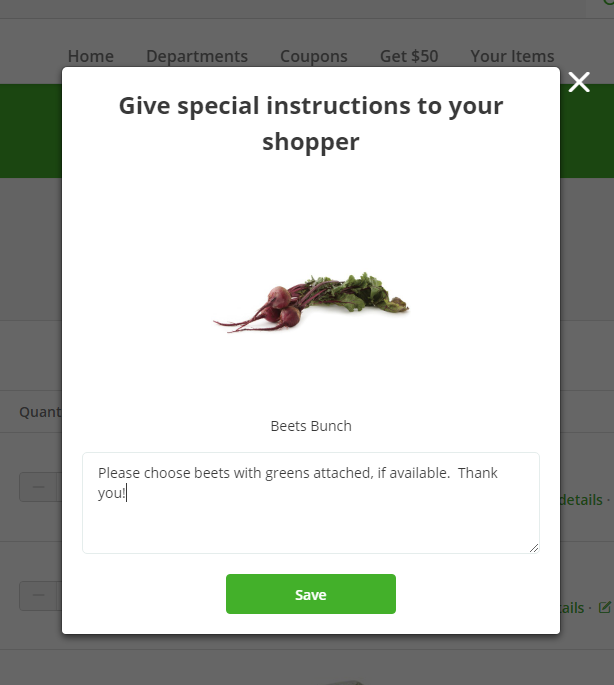 Your preferred store may not have everything on your Shopping List.  If you have "No Match Found" items, they may be able to be purchased at a different store in a separate order, or you can search for a suitable substitution.  Hovering over the ingredient in your Real Plans Shopping List will show you the recipe in which it is being used, which will help you decide what would work best in that particular recipe. 
You will need to check off ingredients in your Real Plans Shopping List once they have been purchased through Instacart in order for your Shopping List to update.  If your preferred store did not have all the items you need, you can then click on "Order ingredients on Instacart" again to begin a new order for the remaining ingredients at a different store, if desired.
Instacart allows less than 150 items to be purchased at one time.  Higher amounts will produce an error message.  In this case, it may be helpful to create a custom date range in your Shopping List and shop for fewer days at a time, or you can break your list up into two orders, if preferred.
Please visit us in our live chat if you need any help or send us an email on support at realplans dot com.  You can also find answers to many questions and learn more about how Instacart works at the Instacart Help Center.