Real Plans is here to help you feed yourself and your loved ones real, wholesome foods, but we know sometimes you might need to go a step further and keep track of your macronutrients.  Maybe you're doing Keto and have been given percentages to follow, or maybe you're an athlete building muscle.  Perhaps you're just curious how much protein you're getting daily, or maybe your doctor has told you to keep your carb intake below a certain level.  Whatever your reasons for wanting or needing to count your macros, Real Plans has the tool to make it easy!  Enter the Macro Tracker!
How to add Macro Tracker to your subscription
To add the Macro Tracker to your Real Plans subscription, simply head to your Meal Planner and click on the gray Macro Tracker tab.
Once you have added the Macro Tracker to your Real Plans account, head to your Meal Planner and click the Macro Tracker tab.  It will be now be blue to indicate that it has been added to your subscription and is ready to use.

Viewing Macro Tracker 
When you open the Macro Tracker, your Daily Tracker will be displayed with today's meal plan recipes automatically populated.  You can use the left and right arrows to navigate to the day you wish to track.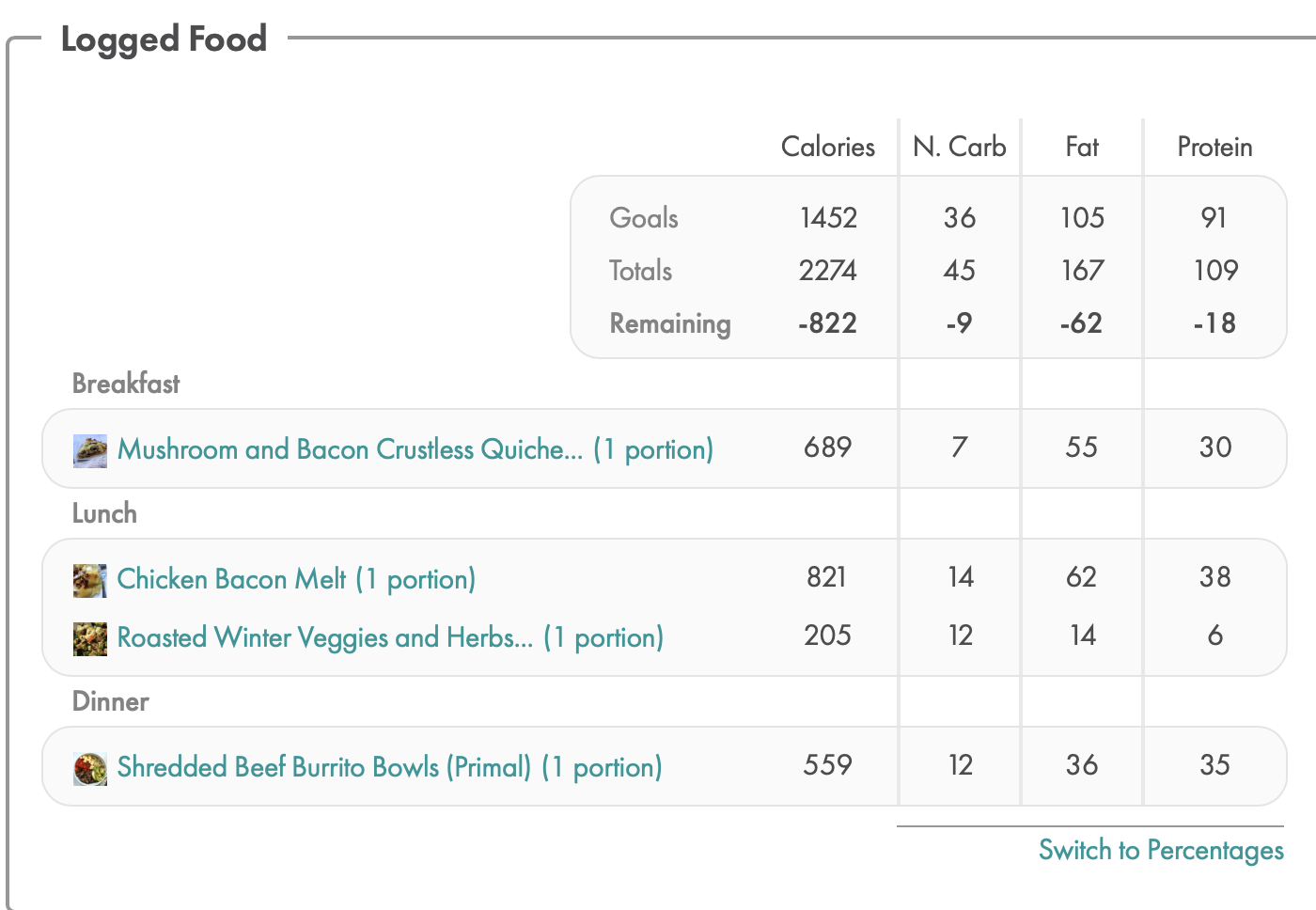 Updating Macro Tracker to Reflect Your Day 
If you didn't eat everything on your Meal Planner for today or added some foods not on your planner, you can easily make changes to your Daily Tracker.
Click on a recipe to remove it from your tracker or to change your portion sizes.

Here, you can change the number of servings or the unit of measure to indicate the amount you actually consumed.  You can also manually change the macro numbers, if needed, if you did not eat the recipe as written.  For instance, if your recipe called for avocado but you left that out, you would need to adjust the macros to reflect that.*  (If you always leave out the avocados in this recipe, for example, you can modify the recipe, which will automatically recalculate the macros for that recipe.)  When you have completed adjusting your portion size, unit of measure, and macro numbers, click "Update" to save those changes.  If you did not eat this recipe today, click "Remove" to remove it from your Daily Tracker.
*For help adjusting macro amounts to reflect omitting an ingredient in a recipe or adding more than the recipe calls for, you can use the USDA website to look up the specific macro amounts for that ingredient and adjust those accordingly to be sure your Macro Tracker is giving you the most accurate information for what you actually consumed.
If you prefer to use percentages when tracking your macros, such as for a Keto diet, simply click "Switch to Percentages" on the lower right corner of your Logged Food list.

Adding an Ingredient or Recipe that was not on your Plan 
If you ate foods other than what is on your Meal Planner, you can easily add those to your Daily Tracker.  Just click the dropdown to choose whether you are adding a recipe or an ingredient, begin typing the recipe or ingredient name, and select the correct one from the list.   You can then enter the quantity eaten, unit of measure, and meal when the recipe or ingredient was eaten.  Click "Add" to add this recipe or ingredient to your Daily Tracker.

If the ingredient that you added is not in the Real Plans database, you will need to enter the information in the window that opens so that the ingredient can be included in your Macro Tracker.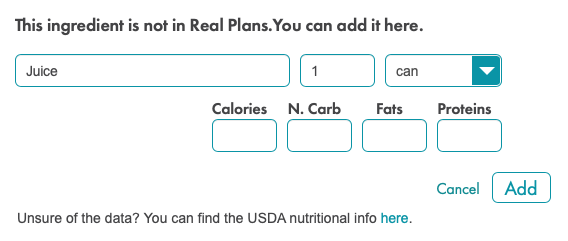 You can also browse recent recipes or ingredients to easily add them to your Tracker.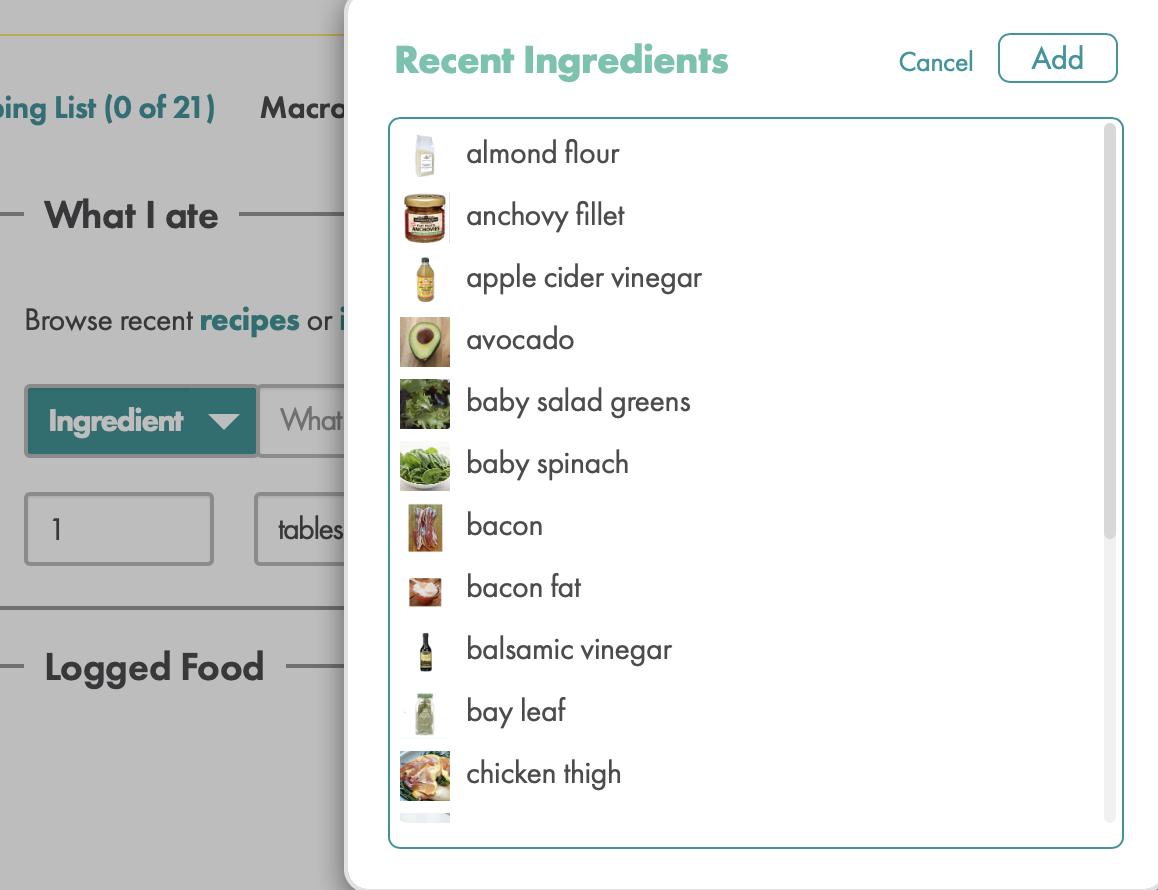 Viewing the Weekly Summary
Click on "Summary" to see a weekly summary of your macro counts.  This page is to help you step back and see how consistent you have been over the past few days.  Your summary shows in either green or red depending on how closely your goals have been met.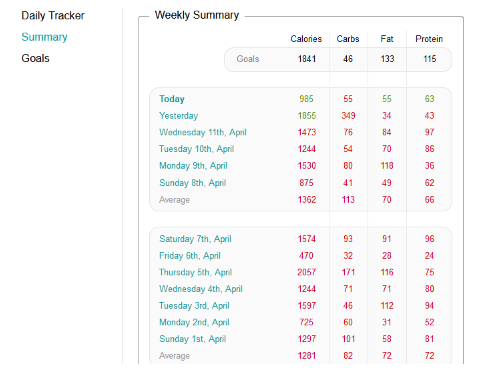 Changing your Goals
You can change your macro goals at any time by clicking on "Goals" in the left-hand sidebar.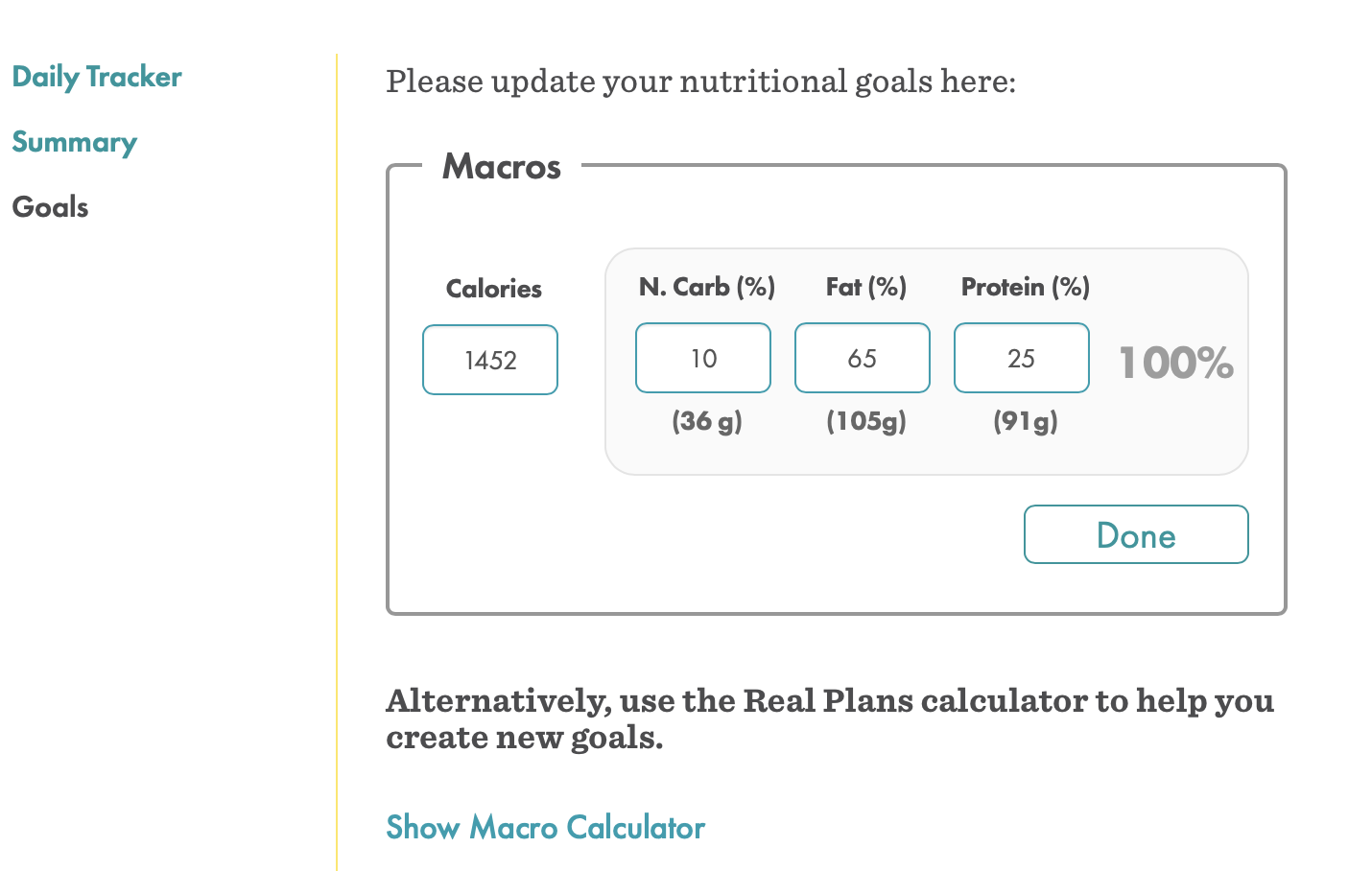 If you aren't sure what your goals should be, you can use our Macro Calculator. Just enter your information to have the Macro Calculator generate your macro goals for you.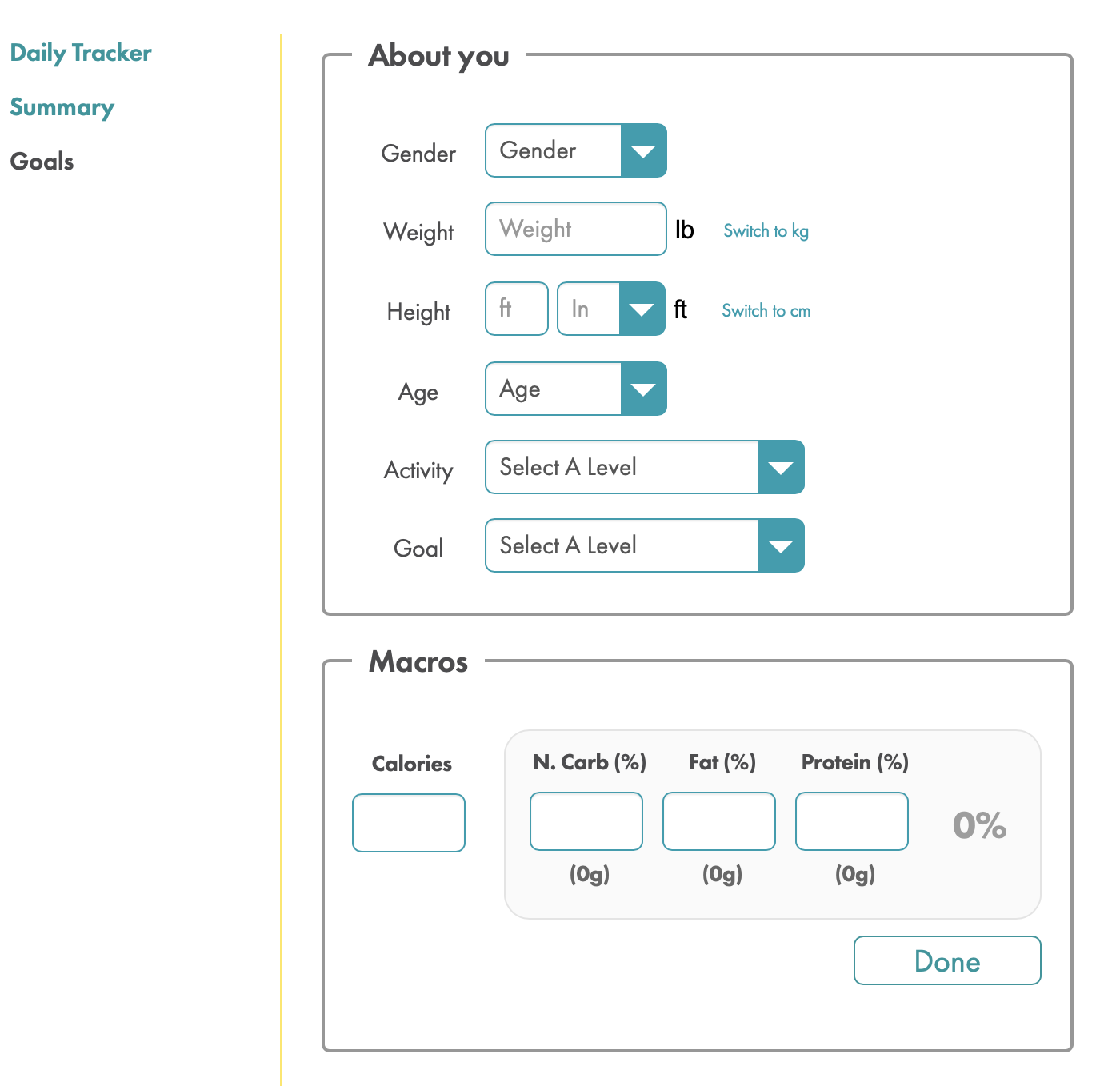 Creating Profiles in Macro Tracker
If you have multiple people in your household tracking macros, you can add profiles to your Macro Tracker for each family member.  To add a new profile or to switch profiles, just click on "Change Profile" in the upper right corner of the Macro Tracker.  (You will always know which profile is currently displayed by the initials in the upper right corner.)

Select "Add New" to add a new profile and type the name of the new user in the box.  Click "Change" when done.  You can then enter macro goals for the new user.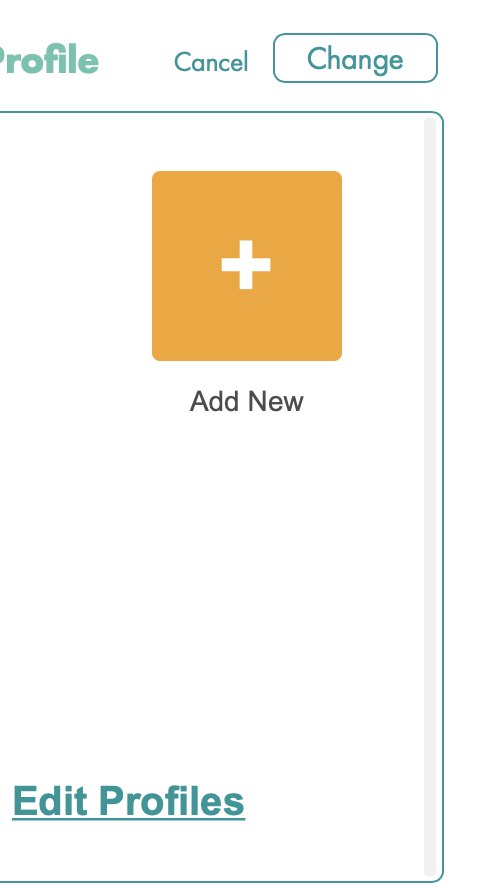 To remove a profile, click "Edit Profiles" and select the profile you wish to remove.
How to Disable Macro Tracker Functions 
You can manage your Macro Tracker function by turning it off or on in Settings > My Meal Plan > Advanced Settings. Please note that this does not remove Macro Tracker from your account, it only temporarily disables the functions until you are ready to use it again.
If you have any further questions or require additional assistance, please pop into chat with us, or send us an email at support at realplans dot com. Happy Tracking!
**Mobile app users:  This feature is currently available on our website only. You can access our website at realplans.com using your preferred mobile device's web browser.**