Real Plans has some awesome features to help you set up your Whole30 Meal Planner to meet your specific meal planning needs, making it much easier for you to follow your Whole30 to completion. 
Head to Settings > Whole30 Meal Plan, and select "See customized schedule" on the Schedule and Diet page.  That will open the schedule window where you will see "Filters" in each meal slot.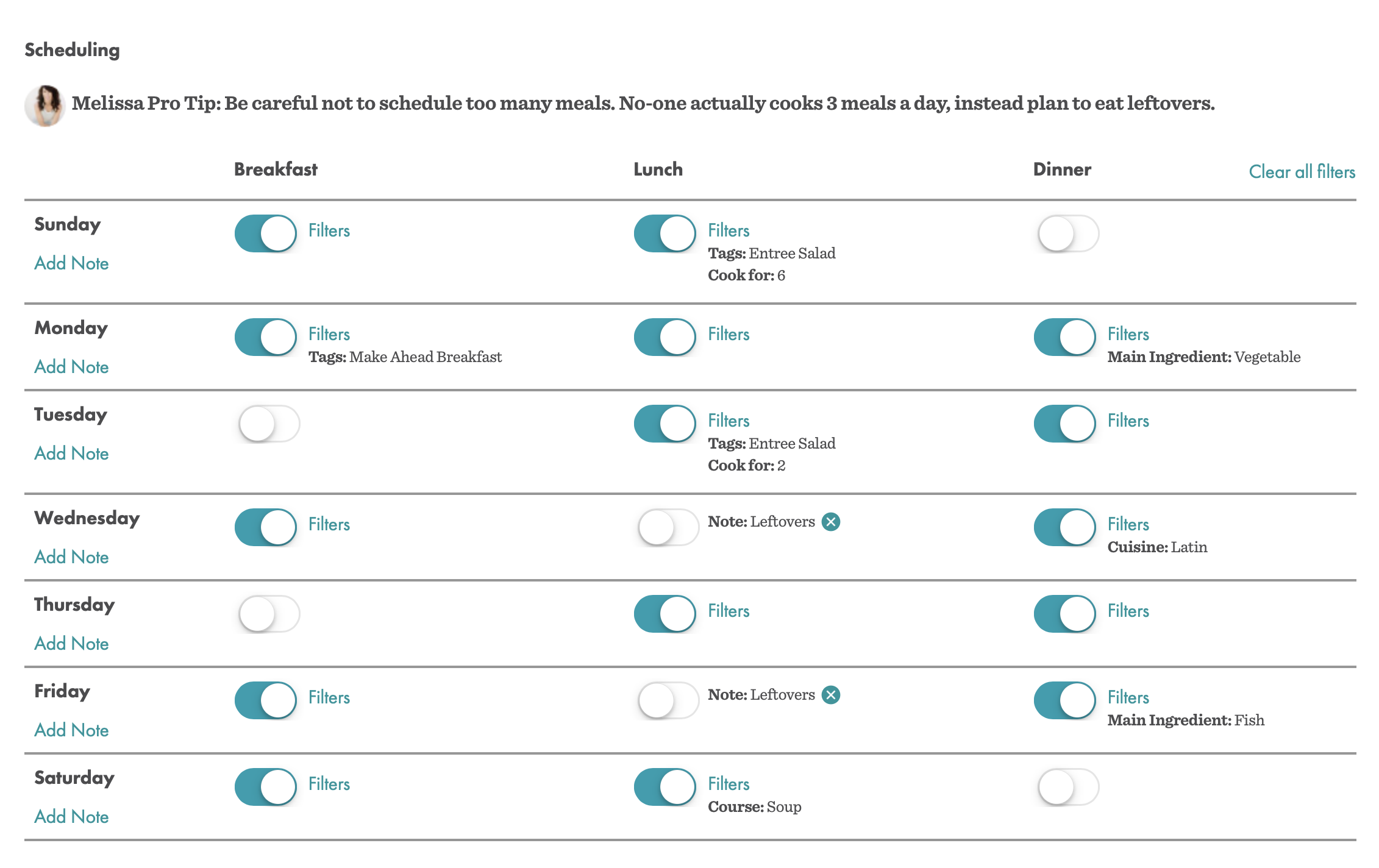 With some simple tweaks of our Filters, you can set your Meal Planner up to have exactly the types of meals you need to make your Whole30 a success!    Here are some scenarios:
"I want to make enough at dinner to have leftovers for lunch the next day so I won't have to cook so much."
To do this, make sure all dinners are turned on (green), click on the Filter for each day's dinner, press the plus sign to up the serving size to the desired number to have enough for tomorrow's lunch, and click "Add".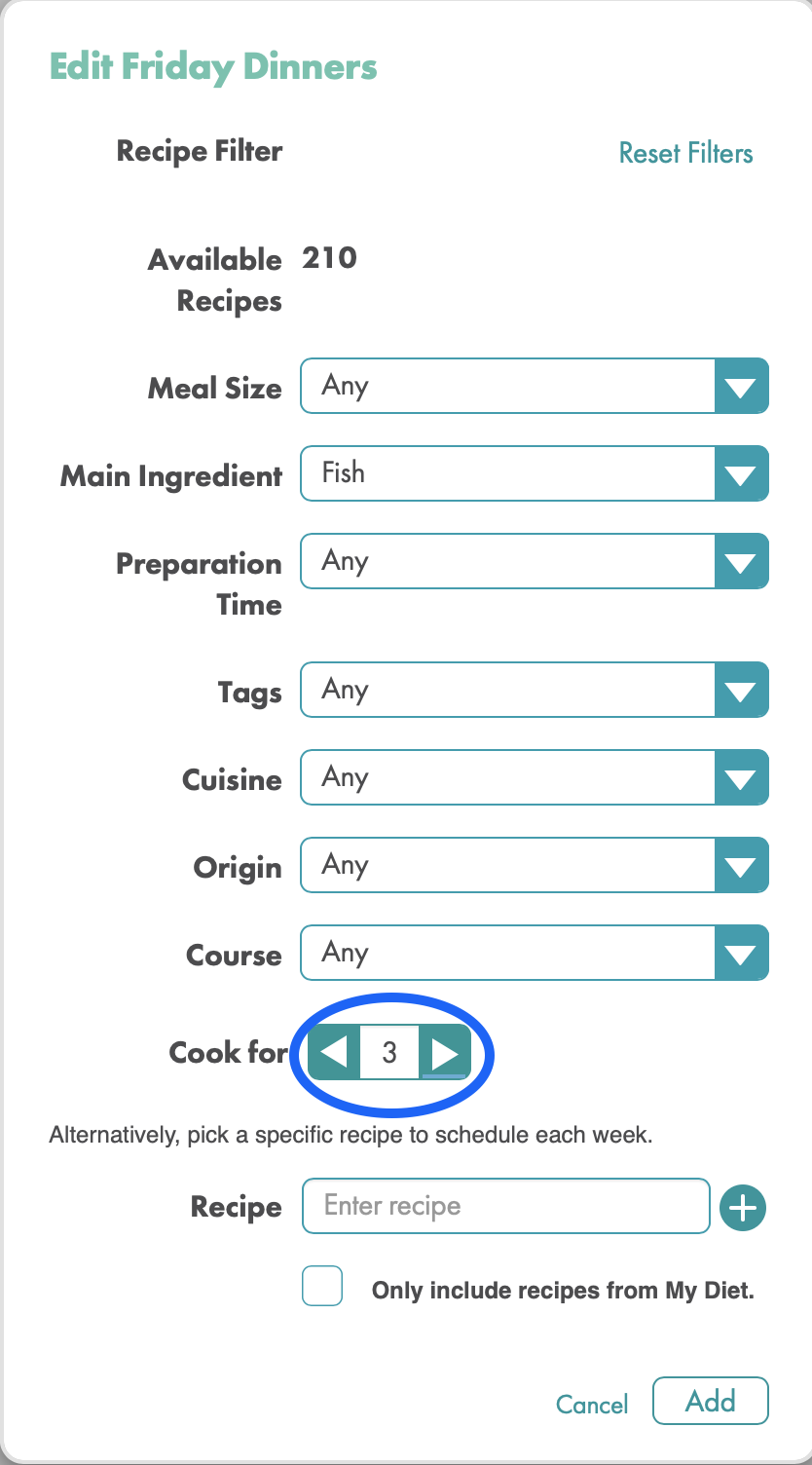 Turn off the lunch meals that you will be having leftovers by sliding the toggle from green to white.  Click on "Add Note" under each day you wish to eat leftovers, choose "Lunch", and type "leftovers".  Click "Add", and the note should now appear on that day's lunch. 


Be sure to click "Save my Whole30" so these changes will be applied to the meal plan.  The schedule should now have extra dinner servings to allow for leftovers for lunch everyday.
"I want to use my slow cooker and pressure cooker to have meals ready quickly since I work outside the home and am too tired to cook when I get home."
First, make sure you have your slow cooker and/or pressure cooker Equipment Settings turned on (see Advanced Settings for instructions on how to check your equipment settings).  Then, go back to Settings > Whole30 Meal Plan, select "See Customized Schedule."  In the window that opens, select the "Filters" for the day of the week a pressure cooker or slow cooker meal is needed, select "Tags", and choose pressure cooker or slow cooker from the dropdown.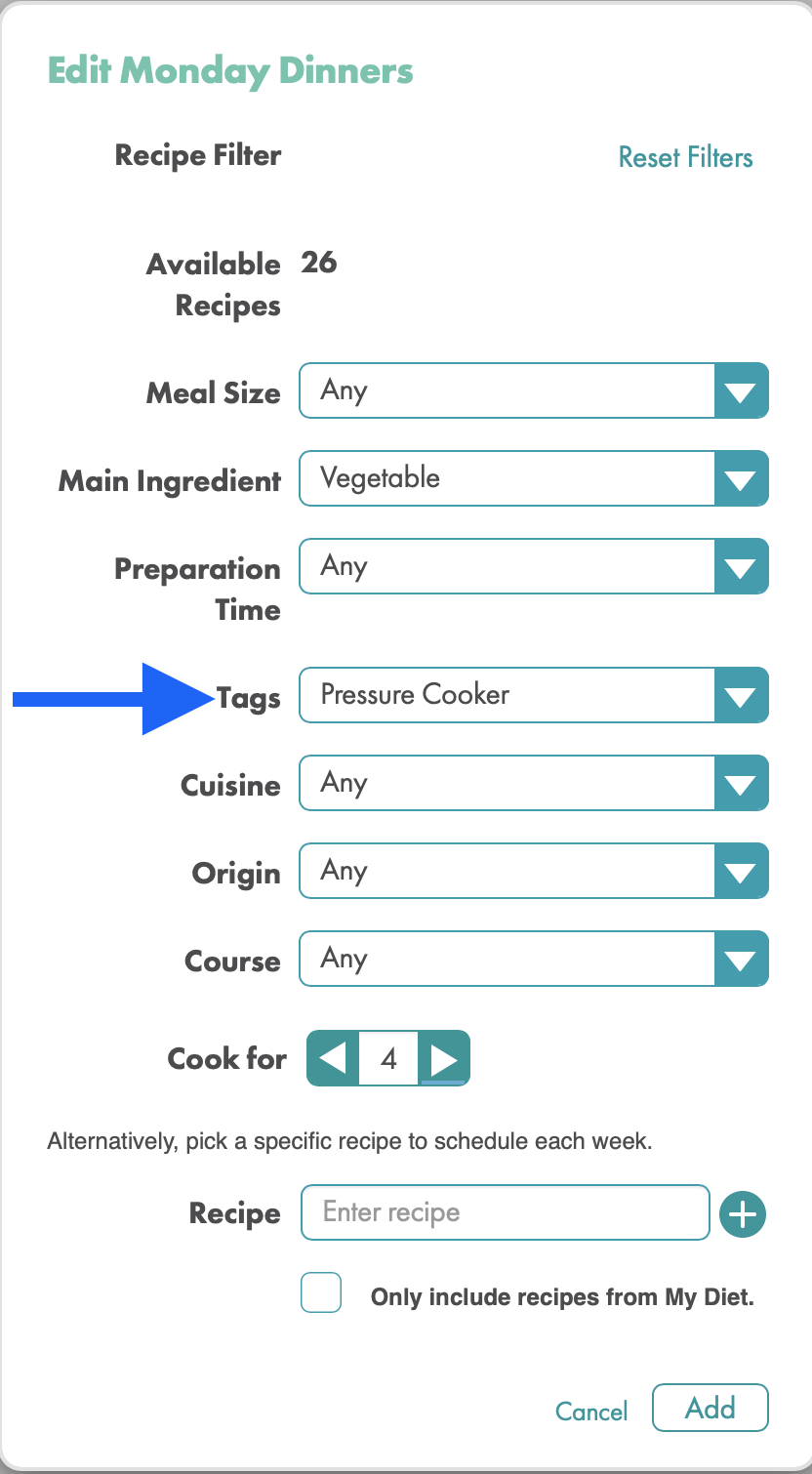 Other options in the "Tags" category that are particularly helpful during your Whole30 are Simple, which includes recipes that use fewer ingredients and take less time to make, Make-Ahead Breakfast, Freezable, and Kids, which might have more familiar ingredients and be less complicated to make.  You can also create your own tags to use for scheduling in the Filters.
"I just want simple breakfasts that I can make quickly before I run out the door, and I need a packable lunch to take to work."
Select the desired day for breakfast from the scheduling template and select Filter > Prep Time > Less than 15 or Less than 30.  You could also schedule a specific breakfast that is quick to prepare, like scrambled eggs, to automatically populate.  The "Make-Ahead Breakfast tag is also a good option for having your breakfast cooked ahead of time, so all you have to do is heat and eat.  For packable lunches, choose specific recipes that are portable, or select soup or salad as the course since those items can be easily transported.  You can also create your own "packable lunch" tag to apply to recipes that work for you, and you can then schedule those using the Filters.  Dinner leftovers make great packed lunches, too, and can be scheduled as described above.  

"I want to batch cook and prep ahead on the weekends."

There are a few different ways you can accomplish this.  You can take a look at the meals on your Meal Planner and use our notes feature to make a note showing what prep you wish to do on the weekend days.  Alternatively, some people like to move all the recipes to the day they want to prepare them and then make a note on the day that they plan to eat each one.  Click here to learn how to make a note on your Meal Planner.
You can also use our Filters to schedule specific recipes, like Roast Chicken, on Sunday to have for meals throughout the week.  You can make a big pot of soup to eat for lunches through the week by choosing "soup" as your Course in the Filters and making notes to eat the soup for lunch each day.  Using tags like "Make-Ahead Breakfast" and "Freezable" will also help with this. Here is what this might look like from the scheduling template: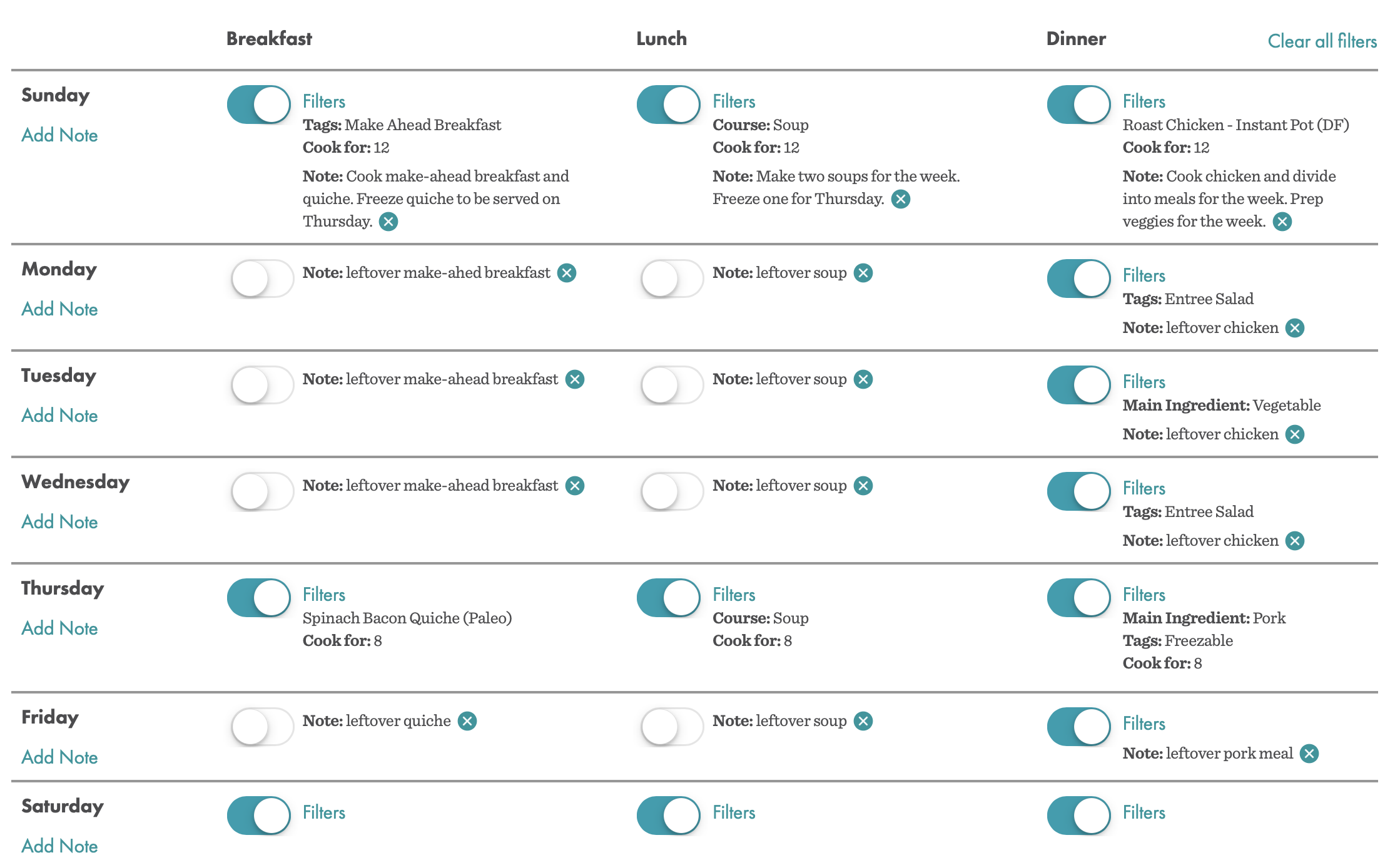 That might translate into something like this in your Meal Planner: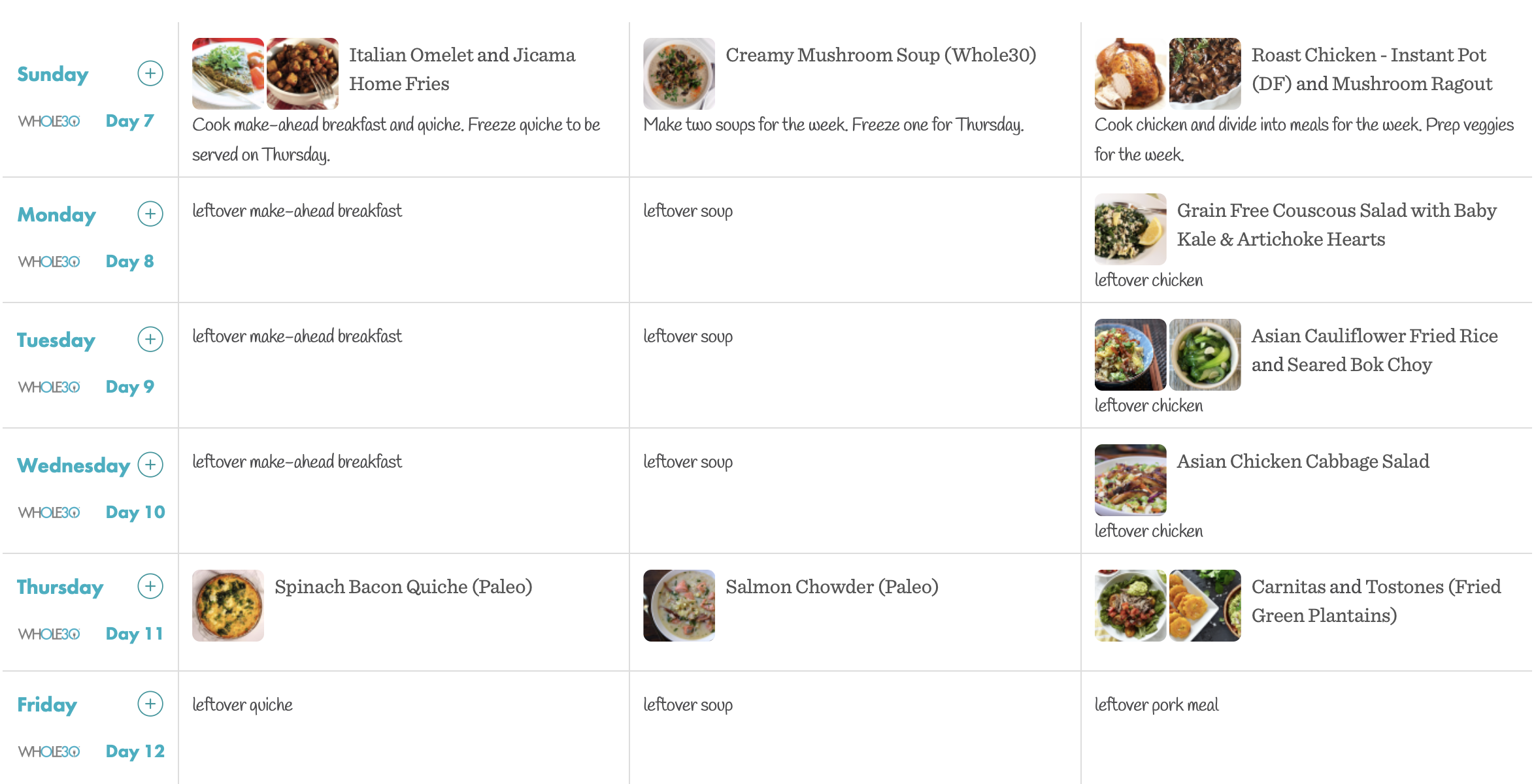 The possibilities are practically endless!  You can use the filters to plan leftovers, choose meals with little prep time, schedule the same recipe to appear every week, or choose which main ingredient you want for each meal (chicken on Monday, pork on Tuesday, beef on Wednesday, etc.)  Once the filters are selected based on your Whole30 needs and cooking preferences, Real Plans will generate a totally customized Whole30 meal plan just for you!  We are available in chat to help you rock your Whole30 or you can send us an email on support at realplans dot com!