We at Real Plans are excited to offer you fully mobile meal-planning assistance for your Whole30 Reset!  Here, you'll find out how to access and utilize these features so you can sail right through your Whole30! 
Turning on your Whole30 functions
If you added Whole30 to your Meal Planner, you will need to turn on the Whole30 functions before you can use them.  To learn how to turn on these functions, continue reading. 
If you already have Whole30 functions turned on, you can skip to the "Setting up My Whole30" section of this page.
Let's begin by clicking on the gear icon at the bottom right corner of your screen and selecting Options.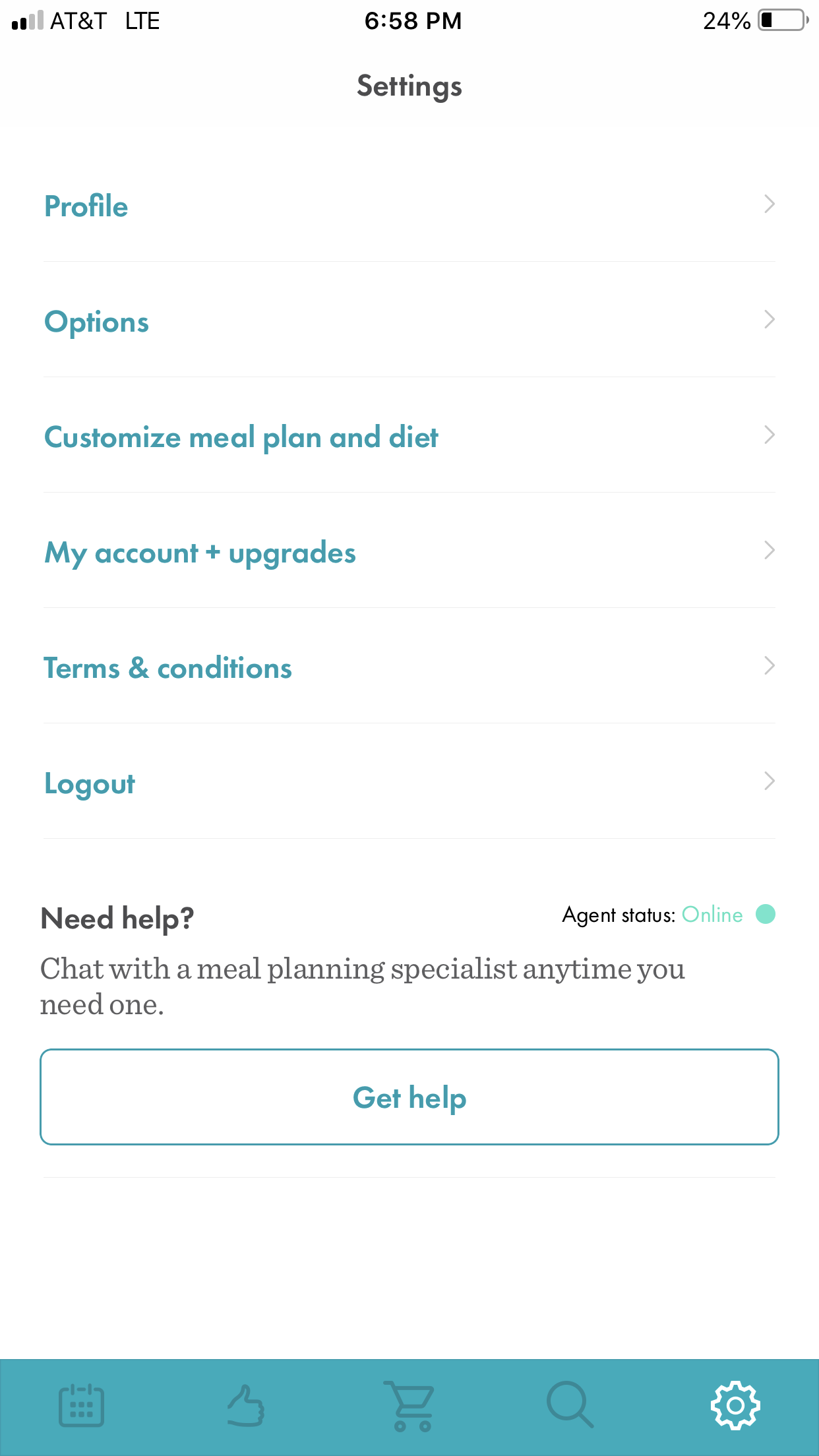 On the Options page, you will want to select Major Settings.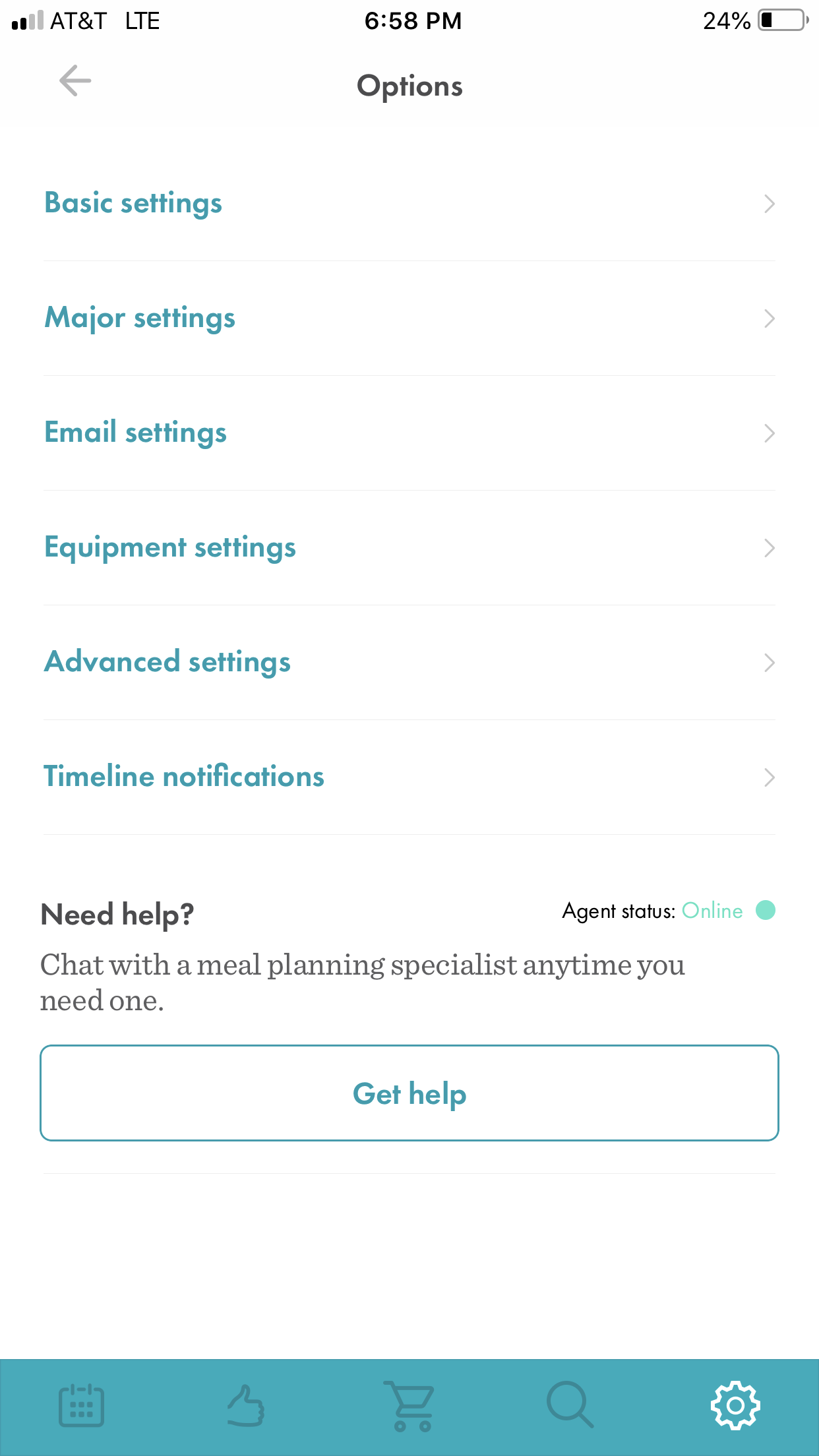 Here, you can turn your Whole30 Function on by sliding the toggle to the right so that it shows green.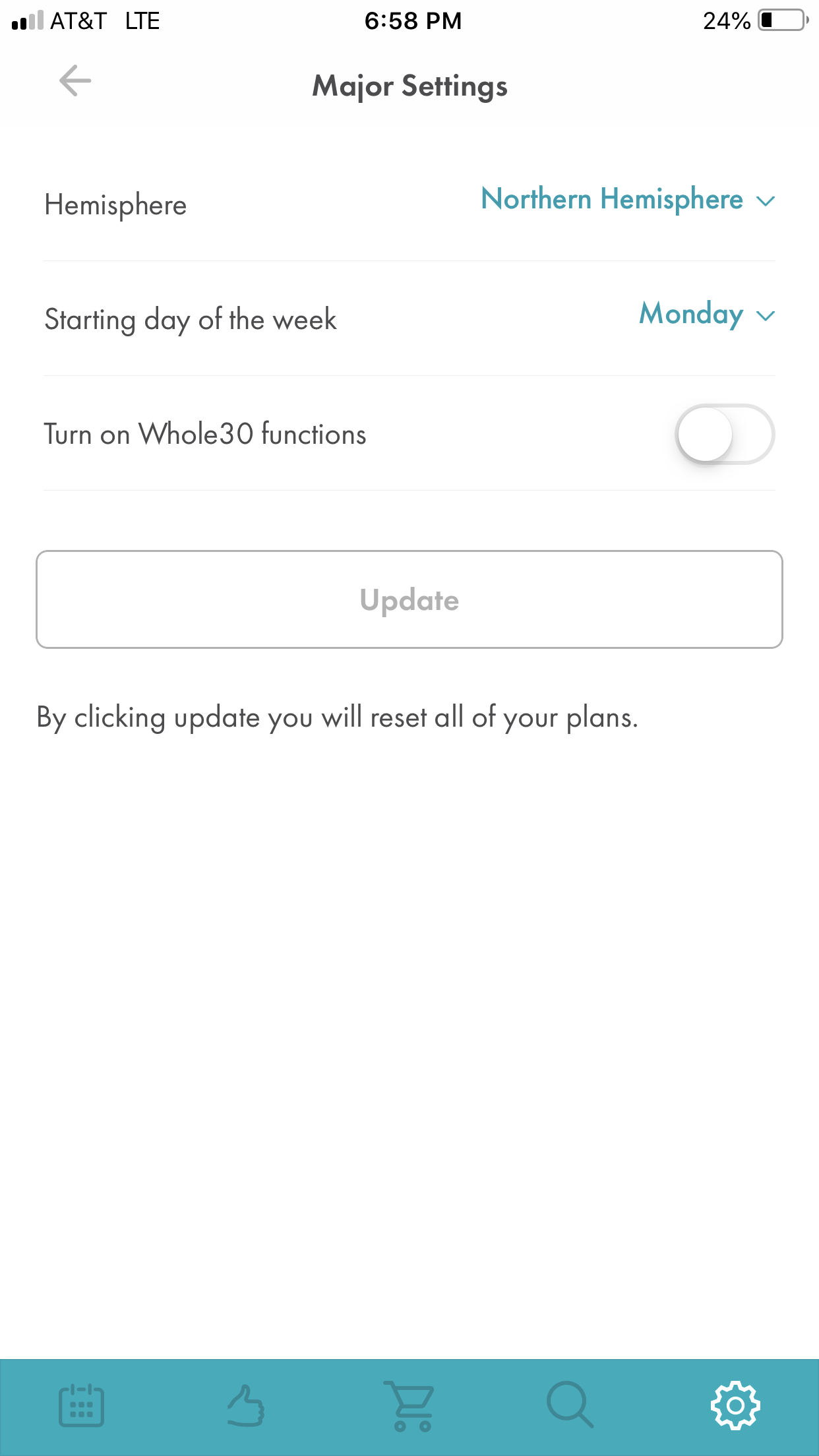 You can toggle these functions off after you've completed your Whole30 and Reintroduction. Simply follow these steps to turn them back on to complete another Whole30 at a later time! 


Setting up My Whole30
If you already have Whole30 functions turned on, this is where you will begin with your set up. This screen is accessed by clicking on the gear icon to take you to your settings.
To begin customizing your Whole30, click on Whole30 Reset.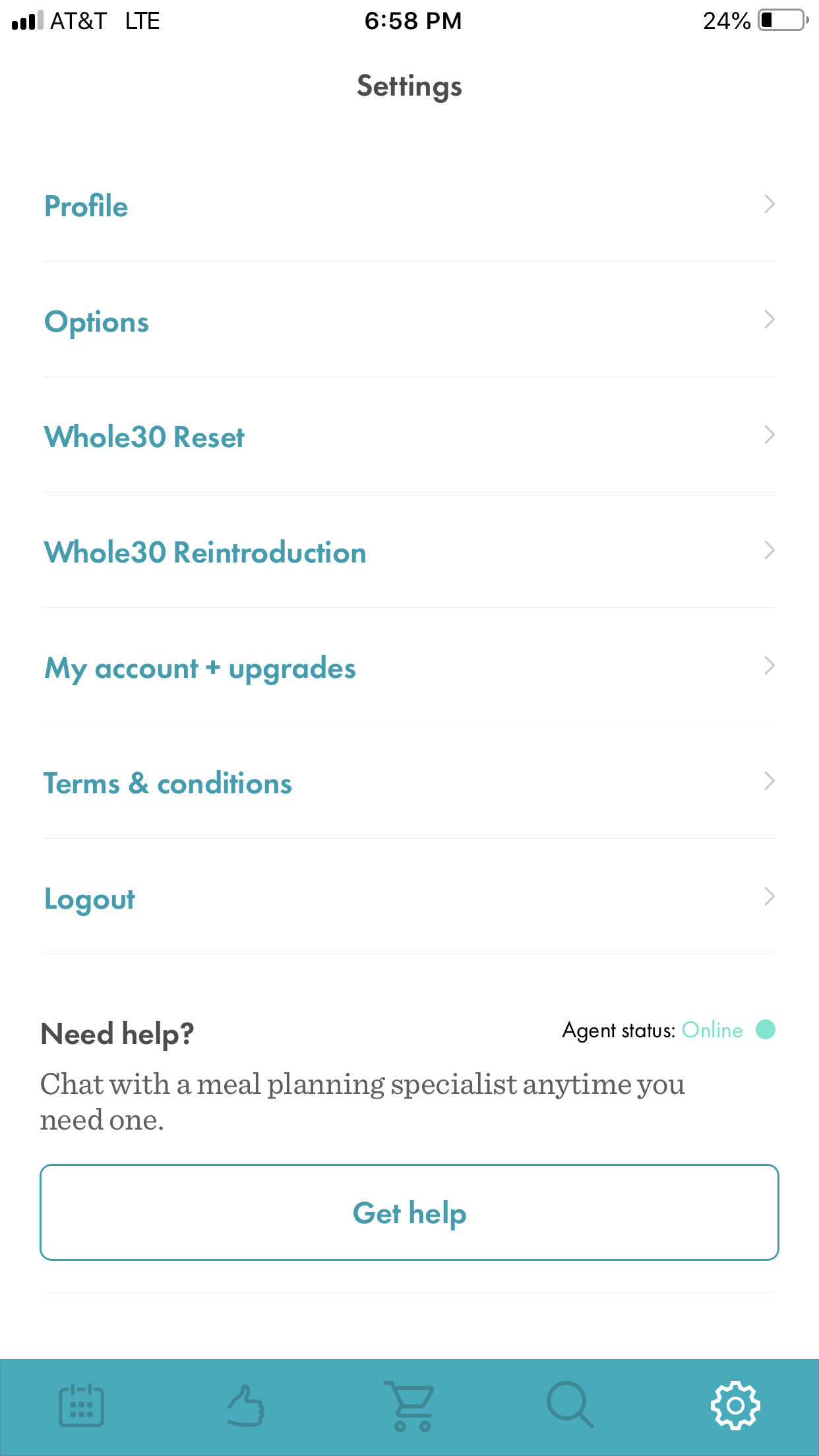 When you click on Configure my Whole30 Reset, as shown below, you will be taken through the process of selecting your start date, setting any food restrictions, and creating your personal schedule.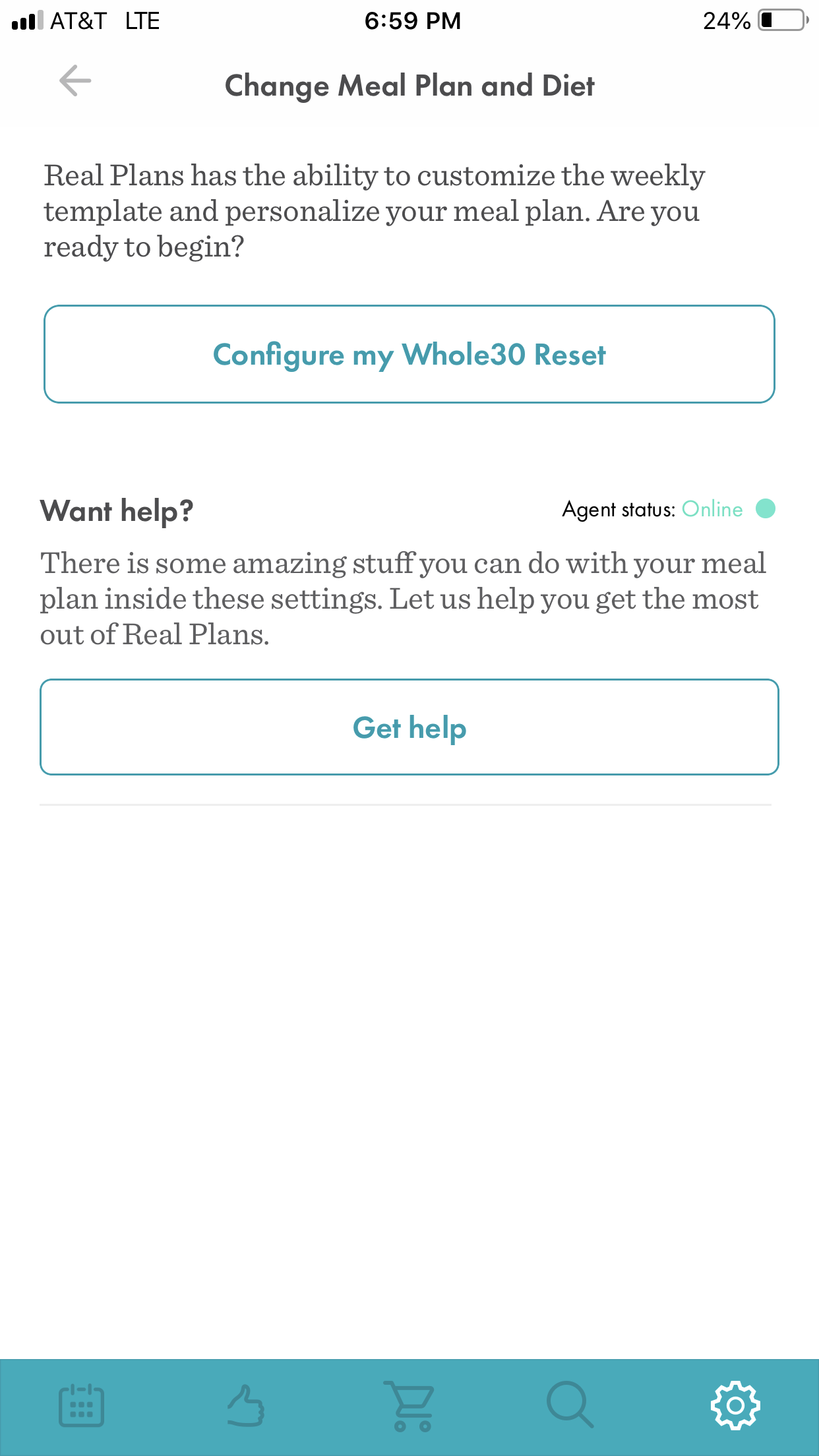 Selecting your Start Date
Now, let's get started with setting up your Whole30 Reset.
You will need to select the length of your Whole30 Reset first.  While most people choose the standard 30 days, some find they would like to try a little longer reset period.  This is the area where you can make that decision.  A minimum of 30 days is suggested in order to get the best results from your Whole30.
Now is when you also want to select the start date for your Whole30.  Clicking on the calendar icon will pull up a calendar where you can click on the day you want to set as the first day of your Whole30.  The day that is selected will be circled in green.  Then click "Continue" at the bottom of the calendar page.
Once you have your reset length and the start date set up, select Continue.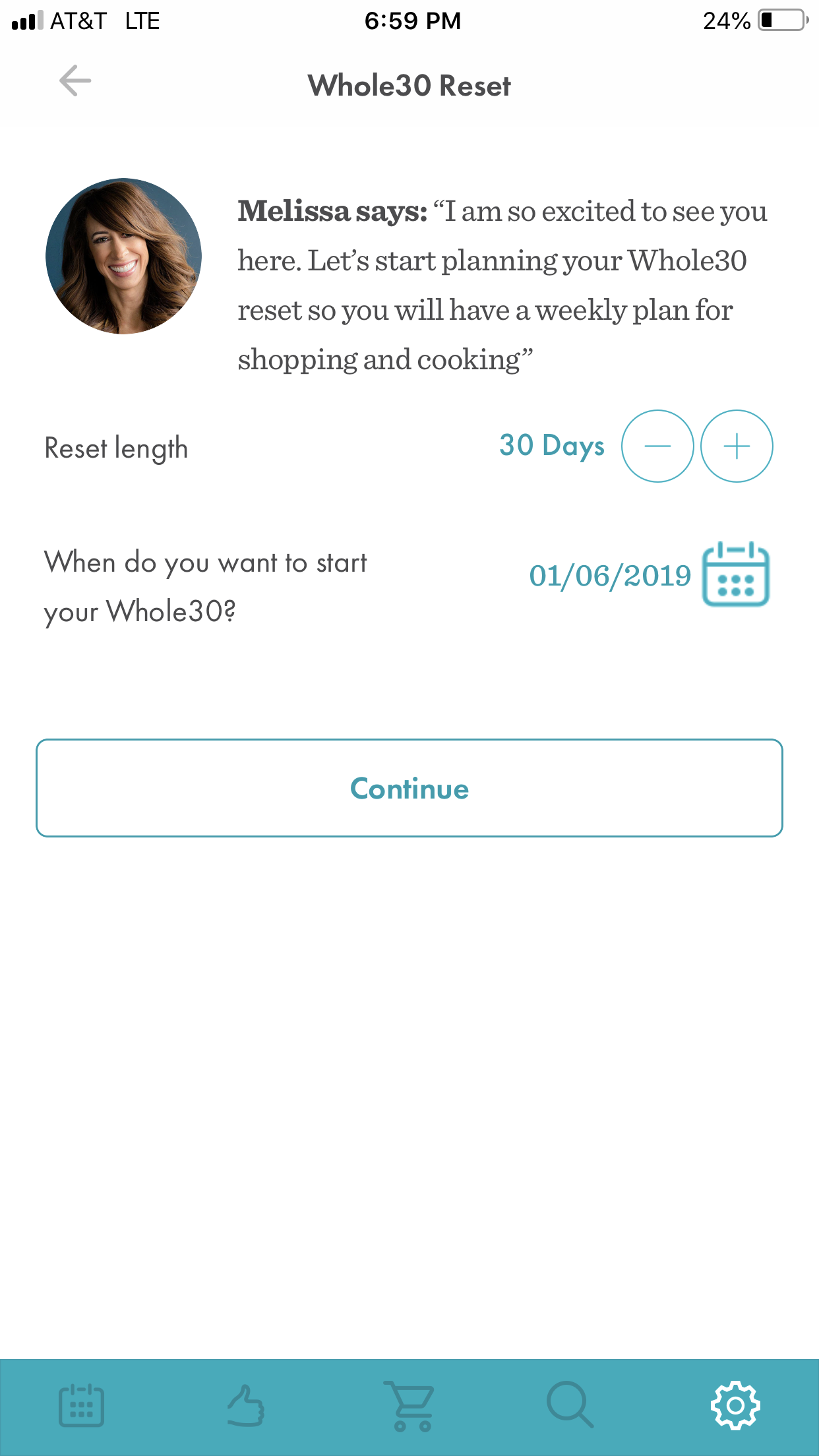 Set up Additional Dietary Restrictions
Your Meal Planner automatically excludes the sixteen food groups that are avoided during your Whole30. Use this section to further customize your planner to accommodate for allergies, food aversions, or foods that are not available to you. 
To remove a food group on this screen, simply click on the group you want to exclude.  You will see an X next to it once you do. This lets you know it has been excluded.  Once you have scrolled through all of the food groups and made your changes, click Continue at the bottom of the screen.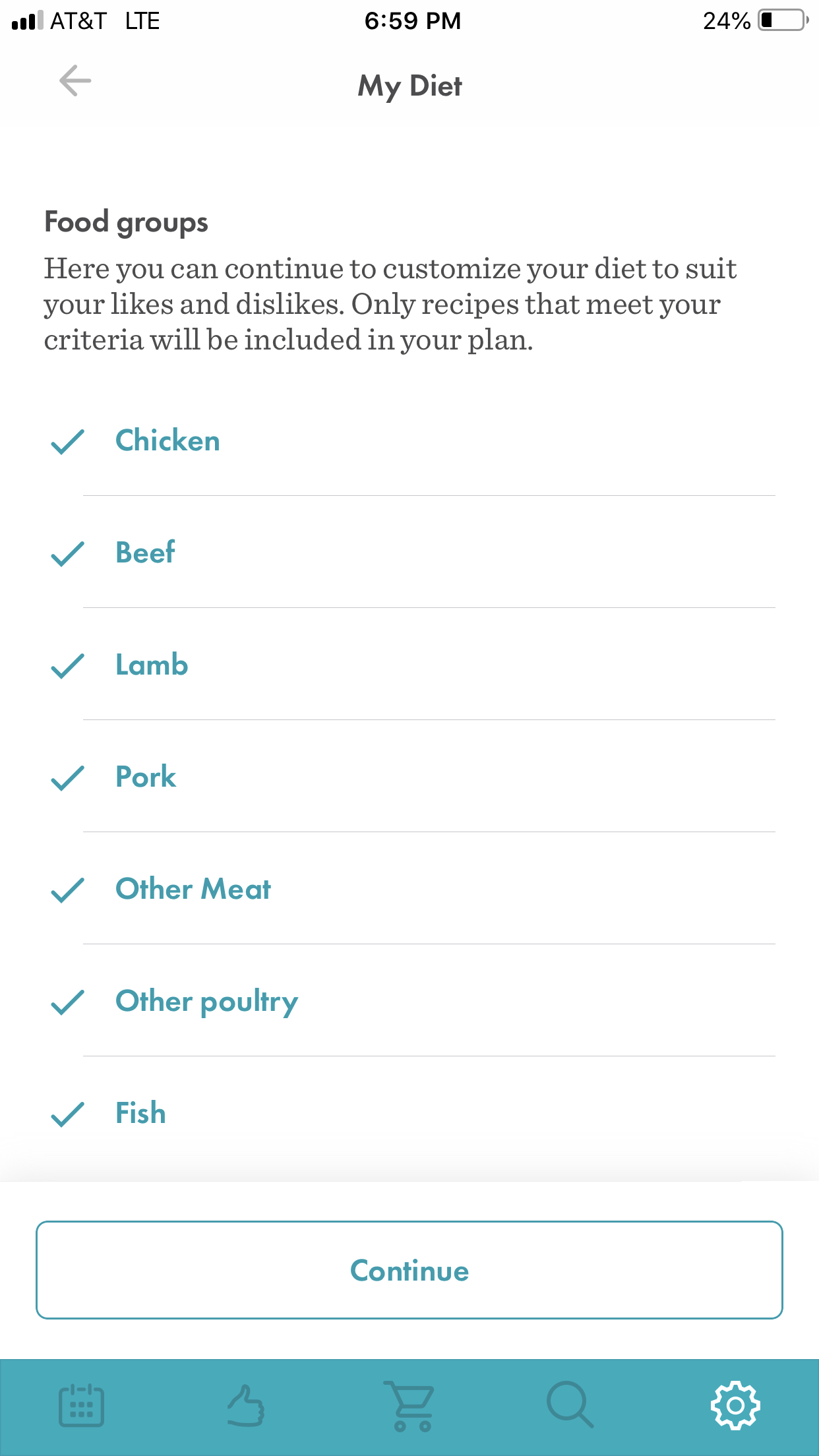 Once you click "Continue", you will get a pop up box asking you to confirm your food group exclusions.  Click "Confirm" to move to the individual ingredient exclusions.
On the next page, you can search for any individual ingredients you want to exclude.  Click on the box that says "Search Ingredients" and begin typing the food you wish to exclude.  The search will give you a list of ingredients with that word in them.  Select the ingredient that you want to exclude and click "Confirm exclusions".  Repeat these steps for all individual ingredients you wish to exclude from your Meal Planner.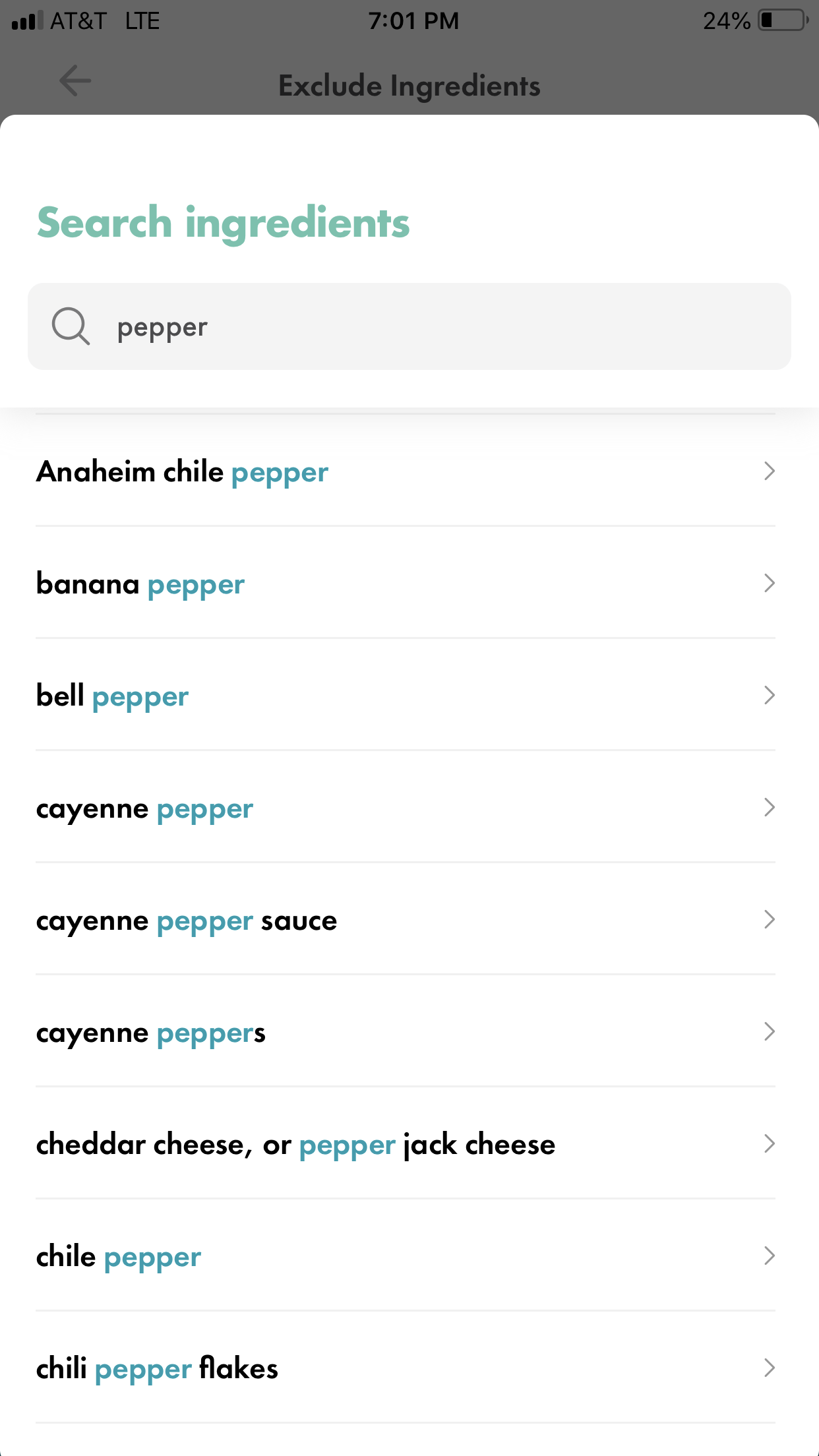 Once you have excluded all of the individual ingredients you need, click "Save and Continue".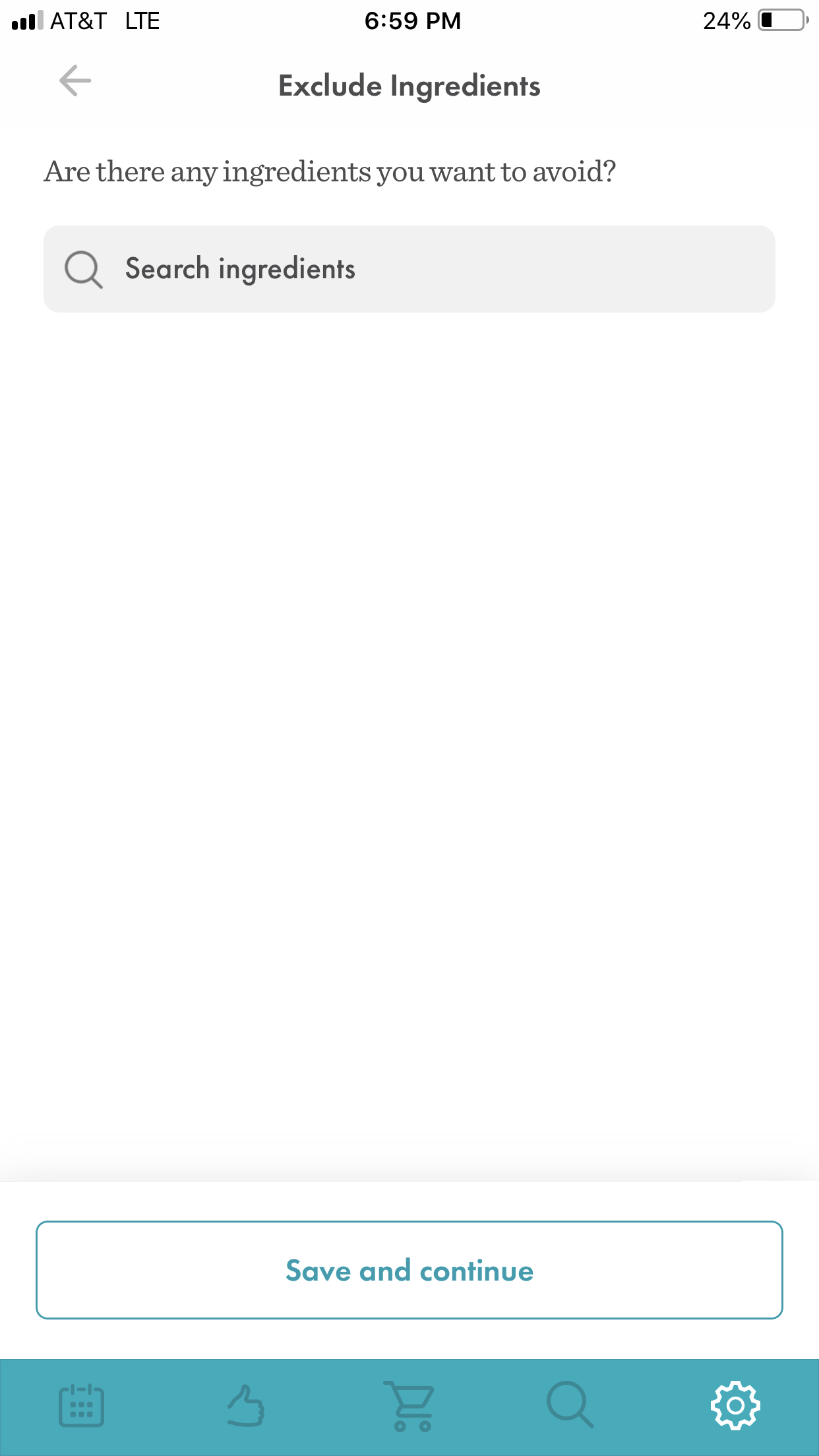 Setting up the Schedule
Now we move on to set up the Schedule - Here you will be able to toggle ON/OFF any available meal slot, as well as set up your Filters. For detailed instructions on setting up your Filters, please click here.  To see how the Filters can help you rock your Whole30, click here.
You can also include a weekly note in any meal slot by clicking on "+Add Note" next to any day of the week. For example, you might want to schedule leftovers into your Meal Planner or remind yourself of a weekly engagement that might affect your meal planning.  
Once you are done setting up your schedule, click Continue.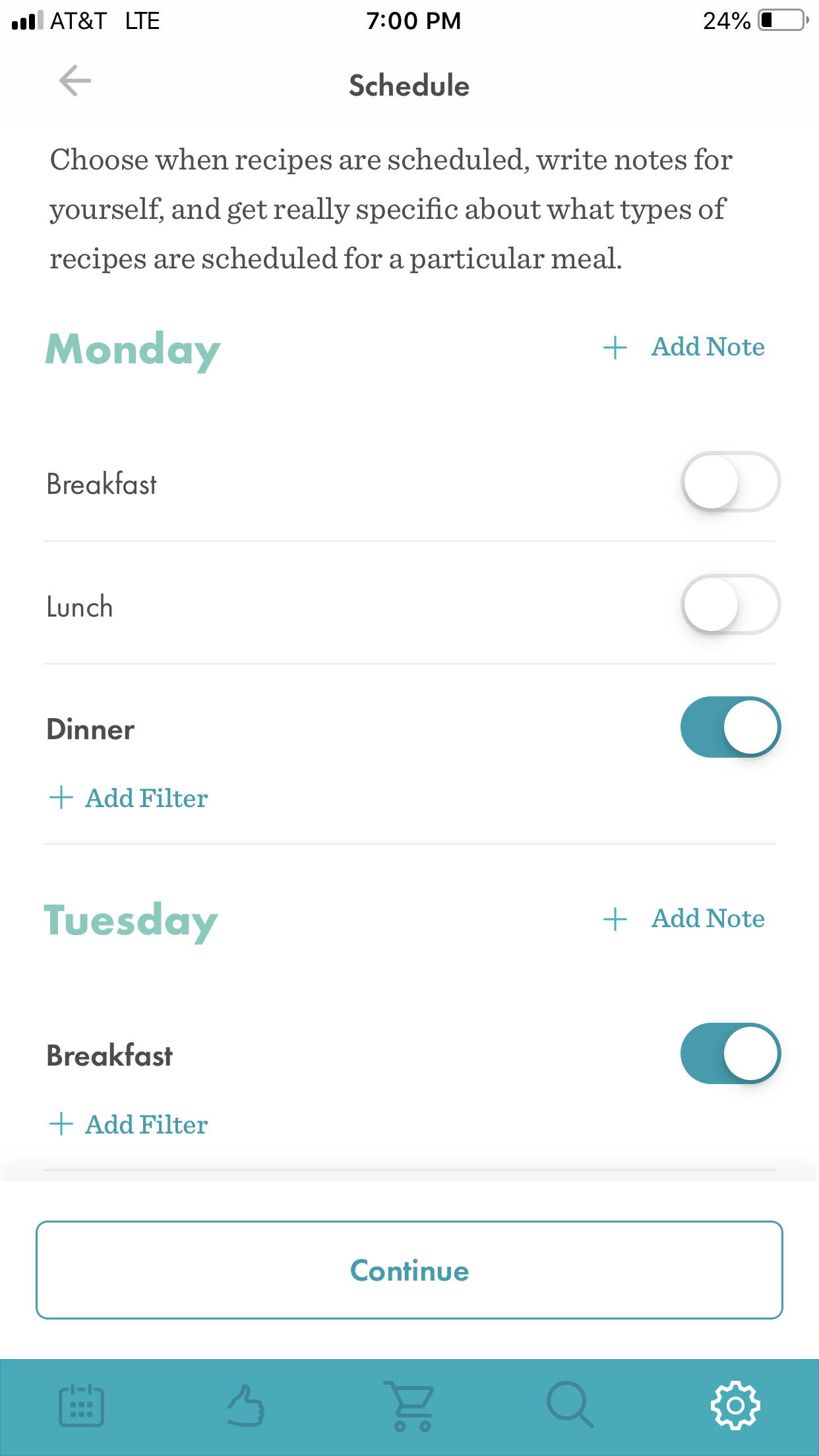 The Finishing Step
Now that you have set up your dietary restrictions and your schedule, click on Create My Whole30.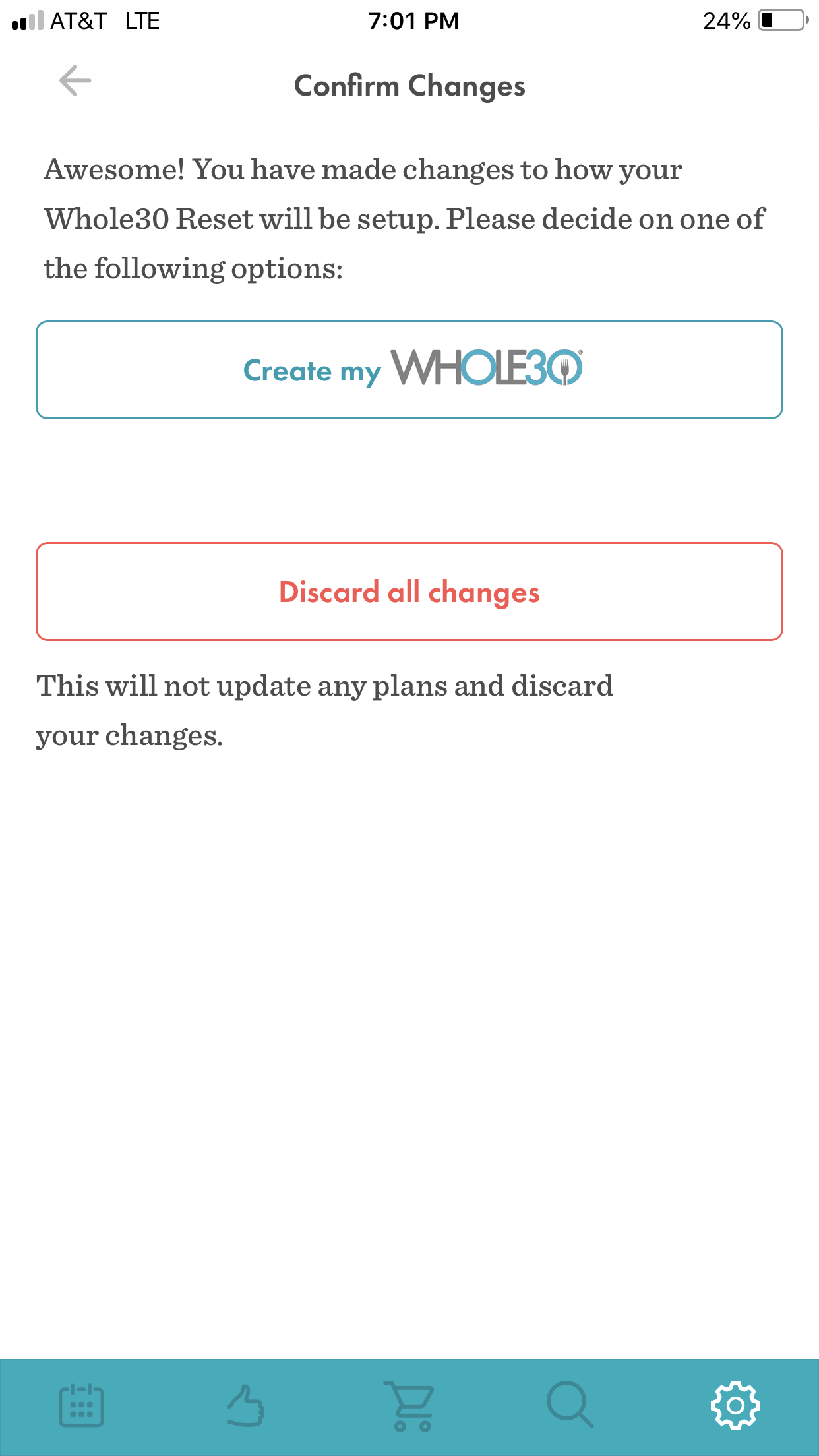 **When updating these Whole30 Settings, your Meal Planner will repopulate to accommodate your new preferences, which will overwrite your entire Meal Planner, including the current week.  You may wish to save or print your current meal plan before clicking on "Create my Whole30" if you have already done your shopping or have customized this week's Meal Planner to your preferences.**
Creating or adjusting your Whole30 Settings on a computer or tablet? Find our full website tutorial here. 
Have Whole30-specific questions? Go here to learn more about the Whole30 Reset! 
If you have any further questions or require additional assistance, please pop into chat, or send us an email at support at realplans dot com.